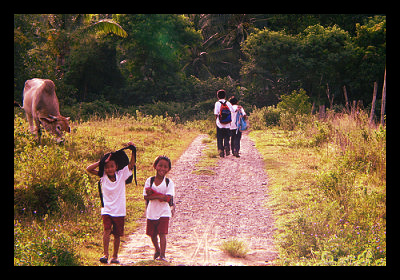 According to the Department of Budget and Management, The Department of Education in the Philippines (DepED) has recently been granted the primary sum of the Philippines' social services budget for 2014. The Philippines is facing huge concerns with a lack of teachers, textbooks, classrooms; it also faces an exceptionally high dropout rate.
Low budgets have made it difficult to extend an education in the Philippines to an increasingly high population of children. A total of 309.43 billion Philippine pesos ($18.6 billion,) or 37 percent, has been allotted to DepED after the country determined the issues with their public education system.
A large portion of the DepED money will now be focused on incorporating technology and alternative learning systems in the classroom in hopes of integrating out-of-school children; the initiative is called the Enhanced Instructional Management for Parents, Community and Teachers (e-IMPACT,) originally established in the fiscal year 2007-2008.
The fund is also comprised of 44.6 billion Philippine pesos ($1.00316 billion) for repairing and constructing new school buildings. The DepED will be building 43,183 new classrooms, fixing 9,502 of the existing classrooms and constructing 1.59 million new schoolroom seats for the Kindergarten through 12th grade programs.
The plan will add 10 new libraries will be added to the 213 current centers; each will be supplied with new books. In hopes of reaching the goal of 1:1 student to textbook ratio, the Department of Education in the Philippines hopes to attain "42 million more textbooks and workbooks."
e-IMPACT is a technology based alternative method of learning that is fueled by student interactions. Every student is given access to online modules and online guides to learning materials. The modules will open a window into how children are able to learn and communicate with each other and will allow parents and school faculty to become increasingly involved in ensuring that the e-IMPACT positively transforms the community. Everyone in the community will be engaged and learning with the students.
By incorporating e-IMPACT and repairing classrooms, DepED hopes to promote global mainstreaming and expansion of primary education, part of the second Millennium Development Goals. e-IMPACT will attempt to incorporate children who have dropped out of school and seeks to keep children in school who are at risk of dropping out.
– Rebecca Felcon
Photo: Josh Weinstein
Sources: Asia Pacific Future Gov, TaosPuso Foundation, Manila Bulliten
https://borgenproject.org/wp-content/uploads/The_Borgen_Project_Logo_small.jpg
0
0
Borgen Project
https://borgenproject.org/wp-content/uploads/The_Borgen_Project_Logo_small.jpg
Borgen Project
2014-02-26 04:00:30
2019-08-14 12:53:02
Education in the Philippines