Addressing Work That Supports Education in the Philippines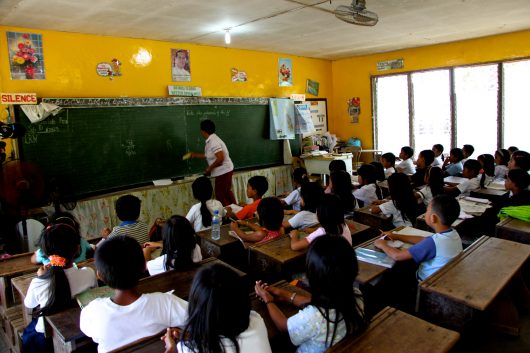 Though the Philippines' schooling system has significantly evolved in past years, many Filipinos still find challenges in receiving a quality education. The World Bank believes that increasing education opportunities could economically benefit the Philippines as well. Here is a list of work that supports education in the Philippines.
PETC Workers Help Repair a Philippine School
On July 1, 2016, the Lear Philippine Engineering and Technology Center (PETC) reported its work to support the Philippines' "Brigade Eskwela" (Brigade for Education). Seventy engineers and associates painted a wall and classroom at Maguikay Elementary school. The volunteers also repaired some of the classroom's amenities. The PETC put up a donation box at the school and received books, four sets of wall fans and $150 in contributions for incoming students' school supplies.
The Philippines' Successful K-12 Reform
In August 2016, the Philippines' long-running K-12 education reform efforts helped 1.5 million students attend eleventh grade for the first time. The Philippines' new K-12 law adds two years of senior high school, eleventh and twelfth grade, to the country's required education system.
Contrary to the number of students who completed the tenth grade in 2015, almost 50,000 more enrolled in the new eleventh grade for 2016. The change was especially significant since the Philippines was originally one of a few countries with a 10-year basic education system.
UNESCO Helps the Philippines' Department of Education
In September 2016, UNESCO met with the Philippines' Department of Education and thanked it for its continued cooperation in various activities. Dr. Leonor Magtolis, the department's secretary, thanked UNESCO for its work that supports education in the Philippines. Magtolis also thanked UNESCO for its initiative to start an alternative learning system (ALS) for the Philippines. Magtolis believed that an ALS would be especially helpful for Filipino school children in rehabilitation centers.
The Philippines' Zero Dropout Education Scheme
In December 2016, the Ernst and Young (EY) firm revealed its support for the Philippines' Zero Dropout Education Scheme (ZeDrES). From 2011 to 2016, ZeDrES ensured that 250,000 Filipino children from low-income families could enroll in and complete primary education, providing them with microloans to afford their expenses. EY's team audits ZeDrES's financial statements and assesses its delivery and impact.
The Success of USAID's STRIDE Program
In September 2013, USAID awarded RTI International a cooperative agreement called Science, Technology, Research and Innovation for Development (STRIDE) that would enhance the Philippines' economic and educational sector. In April 2017, STRIDE awarded $5 million in technology, collaborative science and research grants to more than 20 million Philippine universities. In addition to awarding 46 scholarships to help Filipinos study in U.S. universities, STRIDE is creating technology offices in 36 Philippine universities.
Free Tuition for 100 Philippine Colleges
In August 2017, President Rodrigo Duerte signed a bill that grants free tuition for 100 colleges and state universities in the Philippines. Though President Duerte knew that the new law would have heavy short-term costs, he was more focused on its long-term benefits to Philippine students. A senior official said that the new law will benefit the Philippines' local tertiary schools as well. "Now I can finish my college education. It means hard work," said Angela Rebato, a student from Quezon City.
Volunteer work, funding and free tuition can continue to help Philippine students break educational barriers. PETC, UNESCO, USAID and other entities continue to inspire more work that supports education in the Philippines as well.
– Rhondjé Singh Tanwar
Photo: Flickr
https://borgenproject.org/wp-content/uploads/logo.jpg
0
0
Borgen Project
https://borgenproject.org/wp-content/uploads/logo.jpg
Borgen Project
2018-03-11 07:30:00
2019-11-05 01:30:47
Addressing Work That Supports Education in the Philippines