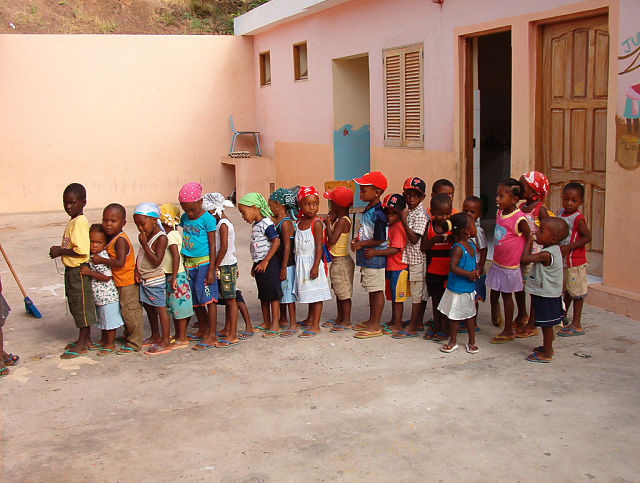 Cabo Verde is a small nation that consists of a group of islands just under 400 miles off Africa's northeast coast. Nine of the 10 islands are inhabited and they are divided into two groups. The Barlavento group in the north includes the islands of Santo Antão, São Vicente, Santa Luzia, São Nicolau, Sal and Boa Vista. The Sotavento group in the south includes the islands of Maio, Santiago, Fogo and Brava.
According to a 2014 report by the World Bank, 3 percent of primary school aged children were not enrolled in school. Girls were less likely to receive an education in Cabo Verde; only 1 percent of primary school aged boys were not in school compared to 4 percent of girls. The rate of completion of primary education in Cabo Verde is 99 percent, which shows that the small nation is making progress towards its goal of universal primary education.
Compared to other low to middle-income nations, access to education in Cabo Verde ranked among the 85th percentile, but it only ranked at the 61st percentile in learning. Despite this, the literacy rate of the youth population was 98 percent, which was higher than the average in other lower to middle-income nations. This is good news for education in Cabo Verde, because literacy is a necessary skill for accessing higher levels of education.
Although Cabo Verde has made great strides in access to education, there are still some obstacles to overcome. One problem for education in Cabo Verde is that many students and teachers alike speak Creole at home and have a weak command of Portuguese, which is the language used in the academic setting. Aside from that, there is not enough spending on supplies, books and lunches, and there is also a high rate of repetition. Students are more likely to repeat grade two during their primary education. The rate of repetition in grade two was 18 percent in Cabo Verde, which was double the average of other primary grades.
Cabo Verde's high enrollment and literacy rates show that education is a priority in the country. By addressing its students' obstacles to learning, it can ensure that they get the most out of the education they are receiving.
– Fernando Vazquez
Photo: Google
https://borgenproject.org/wp-content/uploads/The_Borgen_Project_Logo_small.jpg
0
0
Borgen Project
https://borgenproject.org/wp-content/uploads/The_Borgen_Project_Logo_small.jpg
Borgen Project
2017-11-01 07:30:33
2019-12-29 18:23:59
Education in Cabo Verde Successes: Enrollment