Clean Drinking Water in Kenya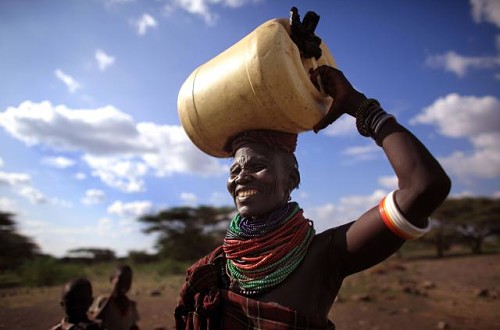 Water and sanitation. Proper access to both is an issue that bedevils developing countries all over the world, and Kenya is no different. A new water-dispensing service is trying to change that.
Water has always been a huge issue in development work. Its importance is paramount to life itself – without water, humans cannot survive. While millions of people in the developing world do have access to water, oftentimes it is not safe for drinking. This causes diseases to spread and death to follow.
The Millennium Development Goals (MDGs) set out targets for clean drinking water. Goal 7, Target 7.C's aim was to "halve, by 2015, the proportion of the population without sustainable access to safe drinking water and basic sanitation." This goal was met five years ahead of schedule – between 1990 and 2012, 2.3 billion more people gained access to safe drinking water. However, some have claimed that Target 7.C set the bar too low in terms of achievement.
A major issue connected to clean drinking water is access to proper sanitation for all. While the clean drinking water MDG has been met, sanitation has not done as well. One billion people still openly defecate all around the world, for lack of a better option. This then affects drinking water – it is a vicious cycle.
Part of the problem with supplying clean drinking water to the world's population is that it is growing, making the task even harder. The population of Nairobi in 1963 was 300,000. Now, it is home to 4.2 million, and this figure is expected to grow to 14 million by 2050. If the world cannot supply its current population with clean drinking water, then how will it possibly keep up with the globe's rapidly expanding populace?
The answer might begin with four new water dispensers that have been installed in Nairobi's slums, which might help to change Kenya's water infrastructure. They operate like vending machines – put money in, and water is dispensed out. This has reduced both the cost of water for slum residents as well as the distance needed to travel to acquire it. The water is purer and cleaner than other options – before the machines were installed, many residents got their water from sellers that dragged jerry cans on carts through the streets. Without water pipes in the slums, this was the only option.
The water-dispensing machines present a cheaper and cleaner option than the street vendors. It is a win-win situation for all involved – the government, who has put the machines in place, makes money on the water, and the citizens pay cheaper prices. Before, people would venture to neighborhoods with water pipes and break them to siphon off water, essentially stealing water from the government.
Now, prices are six times cheaper than they were before. Pre-dispensing machine, water prices hovered around three shillings, the equivalent of around three pennies in the U.S. Now, prices have been reduced to half a shilling. This might not seem like much, but to some that are unemployed or only make US$2 a day, the reduction is huge.
The payment system is done through mobile payments or water smart cards that residents can load money on. The machines are also operated by local residents who earn up to 40 percent of the profits from the machines as an incentive to keep them running and prevent vandalism. If Nairobi can continue to set an example for what these machines can do, they might go much further than a few slums in Kenya's capitol.
– Gregory Baker
Sources: The Guardian, All Africa, UN
Photo: Stratfor
https://borgenproject.org/wp-content/uploads/logo.jpg
0
0
Borgen Project
https://borgenproject.org/wp-content/uploads/logo.jpg
Borgen Project
2015-08-16 01:30:43
2020-07-02 10:46:05
Clean Drinking Water in Kenya