6 Chocolate Brands Creating Social Change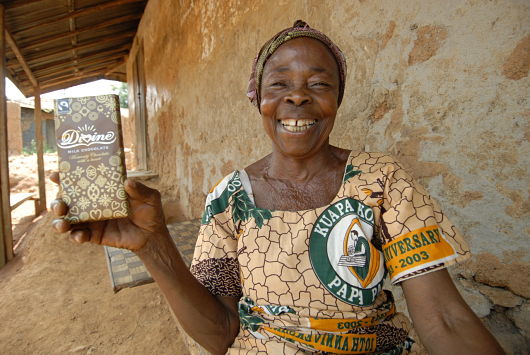 Words like eco, organic, healthy, tasty, and sweet can be found in one single product: chocolate.
If the word "chocolate" is not sufficient enough, the other good part is that many of these organic chocolate products are also fair trade chocolate bars that are creating a social change and an environmental impact.
Besides being socially and environmentally good, there are some brands of chocolate who also donate to different humanitarian and environmental causes.
Here are six chocolate brands that are creating social change:
1. Madécasse
This is a social enterprise that makes chocolate products and vanilla in Madagascar. According to their website, Madécasse measures their success by the quality of the product and the social impact they make in Africa.
The enterprise started by empowering cocoa farmers in Madagascar, and by providing training and higher wages. The brand also creates an environmental impact by protecting around 70,000 cocoa trees, that are part of the habitat of over 65 species of flora and fauna, through cocoa farming.
Some of the chocolate bars that Madécasse sells are Salted Almond, Sea Salt & Nibs, Toasted Coconut, among others.
2. Alter Eco
According to the Alter Eco website, the brand is reliably delicious, socially fair, and environmentally responsible. They work directly with farmers that grow cacao, sugar, rice, and quinoa through fair trade and organic practices. Alter Eco assists these farmers by improving their food quality and their life quality.
Some of the areas that Alter Eco works on are fair trade relationships, development of programs, and the empowerment of women. The brand's products have compostable packaging and are organically grown.
Despite of not being a brand that only sells cocoa products, Alter Eco counts with a variety of chocolates and truffles. Some of the chocolate bars and truffles available are Dark Brown Butter, Dark Quinoa, Dark Mint, Dark Velvet, Salted Caramel Truffles, Sea Salt Truffles, among others.
3. Divine Chocolate
Divine Chocolate is an entity co-owned by 85,000 farmers in Ghana. From Kuapa Kokoo, these farmers produce fair trade chocolate through the premium quality cocoa that Kuapa's has.
The brand also works for women's empowerment by providing opportunities to women in cocoa farming. Furthermore, Divine Chocolate improves access to information for cocoa farmers through funds that support the Kuapa's radio program.
Some of the chocolate products that Divine Chocolate offers are 38 percent Milk Chocolate with Toffee and Sea Salt, Dark Chocolate with Hazelnut Truffle, Dark Chocolate with Whole Almonds, and 70 percent Dark Chocolate with Mango & Coconut.
4. Equal Exchange
Through fair trade, Equal Exchange counts with different natural food products offered to consumers. They work with small-scale farmers and their co-ops from different countries around the world, such as India, Ecuador, Peru, El Salvador, Uganda, Chile, among others.
Some of the products that the brand offers are coffee, organic tea, organic bananas, fair foods, and chocolate & cocoa. The brand sells organic chocolate bars, chocolate mints, candy bars, cocoa, and chocolate chips.
Some of the chocolate options available for purchase are Organic Very Dark Chocolate, Organic Panama Extra Dark Chocolate, Organic Mint Chocolate with Delicate Crunch, Organic Baking Cocoa, Organic Spicy Hot Cocoa, Organic Semi-Sweet Chocolate Chips, among others.
5. SHAMAN Organic Chocolates
This brand of chocolate was created in order to support the Huichol Indian population from central Mexico. SHAMAN Organic Chocolates' goal is to create good and ethical chocolate while they help this Indian population from Mexico.
The brand's chocolate is a 100 percent organic, GMO free, it is fair trade chocolate, and 100 percent of the profits are donated to charity that supports three Huichol villages in Mexico.
6. Endangered Species Chocolate
Endangered Species Chocolate promotes global change by donating 10 percent of their profit to their partner organizations that support different humanitarian and environmental causes.
The causes that the brand's partners support are the conservation of species, habitat conservation, and humanitarian efforts.
The brand pays for premium ingredients for their chocolate in order to make sure that cocoa farmers are being supported and helped, and species are being protected.
The products that Endangered Species Chocolate offers are Natural Cocoa Spread, Natural Hazelnut with Cocoa Spread, Natural Almond with Cocoa Spread, 60 percent Dark Chocolate with Lemon Poppy Seed, 60 percent Dark Chocolate with Blackberry Sage, 60 percent Dark Chocolate with Cinnamon, Cayenne & Cherries, Dark Chocolate with 88 percent Cocoa, and Dark Chocolate.
With many brands offering fair trade organic chocolate products, helping the environment, people and donating to charity can be a way to support many humanitarian and environmental causes, and contribute to the social change that these chocolate brands are creating.
– Diana Fernanda Leon
Sources: Madecasse 1, Madecasse 2, Madecasse 3, Alter Eco Foods 1, Alter Eco Foods 2, Alter Eco Foods 3, Alter Eco Foods 4, Alter Eco Foods 5, Divine Chocolate 1, Divine Chocolate 2, Endangered Species Chocolate, Shaman Organic Chocolates, Equal Exchange
Photo: Dubaruba
https://borgenproject.org/wp-content/uploads/logo.jpg
0
0
Borgen Project
https://borgenproject.org/wp-content/uploads/logo.jpg
Borgen Project
2015-07-31 01:30:06
2020-07-06 13:12:41
6 Chocolate Brands Creating Social Change