China's Human Rights Violations Against the Uyghurs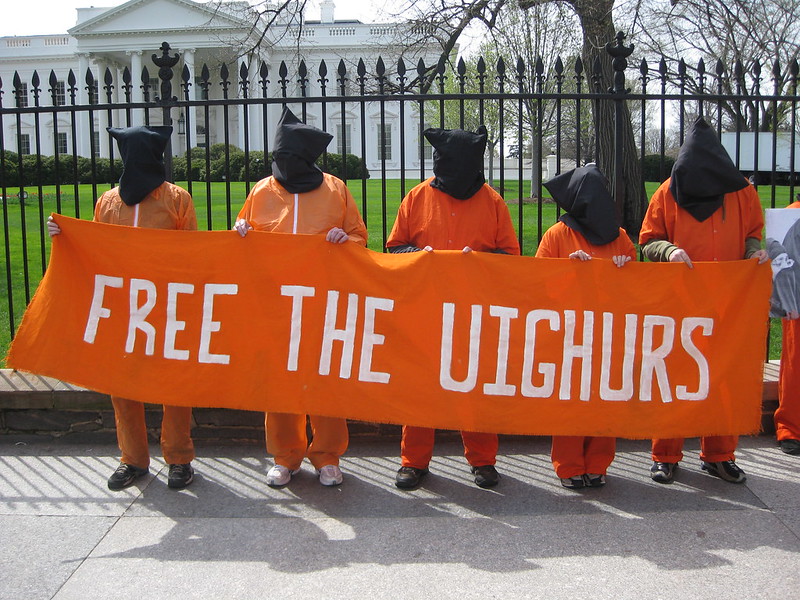 The Chinese government is committing atrocities and human rights violations against the Turkic Muslims in the Xinjiang Uighur Autonomous Region, a northwestern province of China. Chinese authorities detained at least 800,000 and up to 2 million Muslims since 2017; mainly Uyghurs, a predominantly Turkic-speaking ethnic group, along with other ethnic Muslim minorities.
China's Motives
Riots broke out in Xinjiang in 2009 due to Uyghur mass protests against cultural and economic discrimination and state-incentivized migration of Han Chinese, the dominant ethnic group in China. Since then, the Chinese government worries that Uyghurs hold separatist, religious extremist ideas. Therefore, it justifies its repressive actions as necessary measures in response to threats of terrorism.
Chinese officials launched a Strike Hard Campaign against Violent Extremism in 2014 in Xinjiang, but the repression escalated significantly when Chen Quanguo, the communist party secretary, became the leader of Xinjiang in 2016. Prior to this, Chen Quanguo ruled Tibet from 2011 to 2016, where he implemented a dual strategy to restore and secure national security and social stability. He used aggressive policies to reduce ethnic differences and assimilate Tibetans to Han Chinese, such as re-education programs and intermarriage initiatives. Aside from these ethnic policies, Chen established dense security systems to reinforce this cultural transformation, including militarized surveillance systems. After ruling Tibet, people got to know Chen for restoring stability through the enforcement of the Chinese Communist Party (CCP) rule and for his innovative ethnic policies, which he expanded in Xinjiang, targeting the Uyghur population.
Xinjiang is of particular strategic and economic importance for Beijing as it has the country's largest natural gas and coal reserves with 40 percent of the national total. Xinjiang is a key area for China's Belt and Road Initiative, a massive global trade project, as it connects China to the rest of Asia and Europe. Therefore, Beijing may be repressing the Uyghur in Xinjiang for economic reasons to protect its Belt and Road Initiative project in which China invested between $1 to 8 trillion.
China's Human Rights Violations and Abuses
The autonomous region of Xinjiang changed its legislation to allow local governments to set up re-education camps to intern Muslims, where they must renounce aspects of their religion, learn Mandarin Chinese and praise the CCP, in order to combat extremism. As stated by the Chinese Communist Youth League in March 2017, "the training has only one purpose: to eradicate from the mind thoughts about religious extremism and violent terrorism, and to cure ideological diseases."
Former detainees reported the use of stress positions, beatings, sleep and food deprivation by authorities, as well as the mistreatment and torture in some mass internment facilities as punishment for resisting or failing to learn the lessons taught.
The 11 million Uyghur living in Xinjiang outside of the camps also endure the tightening repressive policies of Chinese authorities who subject people to pervasive surveillance. Authorities use cutting-edge technology including artificial intelligence, big data and phone spyware. The CCP leader Chen Quanguo installed a grid-management system in Xinjiang, which divides the cities into squares of 500 people. A police station monitors each square that is in charge of regularly checking IDs, fingerprints and searching phones.
Global Response to China's Human Rights Violations
The E.U. issued a statement in 2018 demanding China to respect the freedom of religion and the rights of minorities, as well as change its policies in Xinjiang. In July 2019, over 20 countries collectively signed a letter to the U.N. High Commissioner for Human Rights, condemning China's human rights violations against Uyghurs in Xinjiang. The letter urges China to allow U.N. experts access to the camps. However, no Muslim-majority country co-signed the joint statement. Instead, Saudi Arabia alongside 36 other countries signed their own letter in which they praised China's achievements and argue that "human rights are respected and protected in China in the process of counter-terrorism and deradicalization."
Most human rights organizations and non-governmental organizations also condemned China's detention of Uyghurs. This was demonstrated in a joint letter that a coalition of five human rights organizations (including Amnesty International, Human Rights Watch, and more) issued to the U.N. Secretary-General, urging the U.N. to take action.
On October 7, 2019, the U.S. blacklisted 28 Chinese organizations, both government agencies and top surveillance companies. This marked the U.S.'s first concrete action in response to China's human rights violations against Uyghurs, along with the imposed visa restrictions on the Chinese government and communist party officials.
Conclusion
China still dismisses all allegations of human rights violations and uses its permanent seat on the U.N. Security Council to block human rights issues discussions. Immediate investigations on China's human rights violations against Uyghurs must transpire and the U.N. should access detention camps. The situation in Xinjiang conveys the level of vulnerability ethnic minorities face, and the urgency for the international community to take concrete action.
– Andrea Duleux
Photo: Flickr
https://borgenproject.org/wp-content/uploads/logo.jpg
0
0
Kim Thelwell
https://borgenproject.org/wp-content/uploads/logo.jpg
Kim Thelwell
2019-11-14 01:30:12
2020-01-18 13:38:22
China's Human Rights Violations Against the Uyghurs