Baobab Fruit Can Save Women's Lives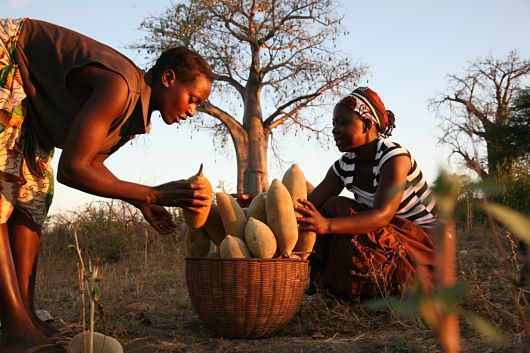 In The Little Prince by Antoine de Saint-Exupéry, the baobab tree questions the prince's discipline and represents the unpleasantness of nature. In Ghana, however, the baobab tree brings health and hope to women. Its fruit has the potential to change millions of lives.
Baobab trees grow in dry, remote areas in over 30 African countries. In many of the rural households, the crop already grows nearby yet the fruit goes to waste because of the lack of demand for and knowledge of the fruit. This is where Aduna comes in. Aduna is an African inspired health and beauty brand that uses baobab as a key ingredient.
Aduna's goal is to create a demand for this under-utilized natural resource and empower women in business. Aduna already sources for their products from 1,000 women baobab producers in Ghana's poverty-stricken Upper East Region, increasing their annual income from £12 ($18.88) to £120 ($188.81) as a result.
The baobab fruit is a win-win situation: it helps the people and helps the market. Baobab fruit is rich in vitamin C, calcium, potassium and iron. Many pregnant women consume baobab fruit as a source of calcium. It can be used to make jams and juices or stirred into stews and sauces. Aside from the fruit itself, the leaves and roots are known to lower fevers and help treat diseases.
They are not only versatile and healthy to consume but are also the ideal trade product for villagers: the fruit is light to transport, easily dried and readily accessible. The baobab market gives women the opportunity to harvest and sell their own product, and to actually have ownership in their own business.
Traditionally, women are in charge of the baobab trees. Because of this, Aduna focuses on womanpower to spark global interest in baobab fruit. Aduna is marketing to the superfood consumers, to the well off and to first-world health nuts in order to generate interest in baobab fruit.
Their campaign is to #makebaobabfamous. It is a combination of supporting women all over the world, supporting small businesses and promoting healthy eating. They hope to create a market that will help over 10 million households across Africa. Baobab fruits have the capability to connect the Third World with the First through the new superfood trend.
– Hannah Resnick
Sources: Aduna, Marie Claire Mother Nature Network, Powbab Seed
Photo: jacabswellappeal
https://borgenproject.org/wp-content/uploads/logo.jpg
0
0
Borgen Project
https://borgenproject.org/wp-content/uploads/logo.jpg
Borgen Project
2015-07-03 06:30:07
2020-07-14 09:00:52
Baobab Fruit Can Save Women's Lives