15 Organizations That Help Improve the World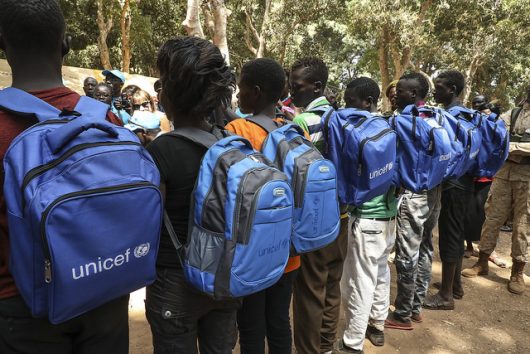 With the myriad difficulties that face the world, it is essential to have organizations making the planet a better place. Without such generous assistance, the world would be plagued with unmanageable adversities. The following is a list of 15 organizations that help improve the world with their innovative ideas and generous efforts.
Bill & Melinda Gates Foundation
The Bill & Melinda Gates Foundation is an organization that works to fight hunger and its consequential effects on a global scale. It works specifically to eradicate infectious diseases and child mortality rates in struggling countries.
Doctors Without Borders
Doctors Without Borders delivers emergency aid to people in need. These efforts include helping people in situations of natural disasters, epidemics and lack of health care.
Food and Agriculture Organization of the United Nations (FAO)
The FAO's prime purpose is to defeat hunger. It works in 130 countries worldwide to help ensure people have access to food and are not going hungry. The organization has been fighting hunger since 1945.
Human Rights Watch
Human Rights Watch was established in 1978 and is an organization that reports on human rights conditions in countries all over the world. With its findings, it meets with governments and financial corporations to urge for policy changes that assist the betterment of human rights around the world.
Oxfam
Oxfam is a global organization that helps improve the world through poverty-reduction efforts. It focuses on the conditions that cause poverty and works to fix the effects of such difficulties. Its efforts include disaster response, programs to help people afflicted by poverty and education improvement.
Red Cross
Founded in 1881, the Red Cross foundation works to help people in urgent need. Assisted greatly by volunteers, the Red Cross mainly provides disaster relief, support to America's military families, health and safety services, blood donations and international services.
Save the Children
Save the Children is a nonprofit organization that focuses primarily on helping children in need. This includes emergency response, global health initiatives, HIV and Aids prevention, disaster response and creating educational opportunities. In 2016, Save the Children reached and assisted 157 million children.
The Borgen Project
The Borgen Project is a nonprofit organization that aims to end poverty by working to make poverty a focus of U.S. foreign policy. The organization is an influential ally for the world's poor that educates and mobilizes people to communicate with their Congressional leaders to ensure funding for poverty-fighting efforts are not eliminated. In 2017, the organization had volunteers in 754 U.S. cities and is one of the 15 organizations that help improve the world immensely.
The World Bank
The World Bank works with other organizations to provide extensive financial assistance to developing countries. It was established in 1944 and has more than 10,000 employees and 120 offices worldwide.
United Nations Development Programme (UNDP)
The UNDP is an organization that aims to eradicate poverty. It implements this goal by developing policies, skills and partnerships to enable people to sustain their progress and improvement. The UNDP is in over 170 countries and territories.
United Nations Children's Fund (UNICEF)
UNICEF is an organization that fights for children's rights to shelter, nutrition, protection and equality. It does so by being children's advocates and providing humanitarian assistance to children and their families, most often in developing countries.
United States Agency for International Development (USAID)
USAID is an international agency that provides development assistance to countries in need. It works to advance U.S. national security and "economic prosperity" by promoting self-sufficiency. It uses humanitarian response efforts to bring disaster relief and supplies to those who are struggling.
World Food Programme (WFP)
WFP's mission is to fight world hunger and provide people around the world the quality food they need to survive. It does this by working with U.S. policymakers and other foundations to organize financial resources, as well as develop necessary policies to assist the fight against worldwide hunger.
World Health Organization (WHO)
Of the 15 organizations that help improve the world, WHO is among the largest. The WHO is an organization that works directly with governments and various partners to ensure a healthier future for people all around the world. It fights infectious diseases and works directly with mothers and children to improve and maintain their health.
World Wide Fund for Nature (WWF)
The WWF is an international nongovernmental organization working to conserve nature and reduce extreme threats. It also aims to increase awareness to prevent further damage to the earth and its inhabitants.
These are only 15 organizations that help improve the world. There are many more that work together with partners to help make the world a better and safer place to live. Their generosity helps people on a daily basis live healthier and happier lives, and it is troublesome to think of where the world would be without such assistance.
– McCall Robison
Photo: Flickr

https://borgenproject.org/wp-content/uploads/logo.jpg
0
0
Borgen Project
https://borgenproject.org/wp-content/uploads/logo.jpg
Borgen Project
2018-02-15 01:30:04
2019-12-09 06:02:11
15 Organizations That Help Improve the World