The Role of XPRIZE in Ending Poverty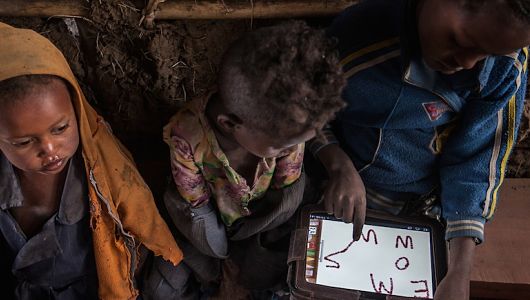 Lack of access to sanitation and agriculture; the inability to maintain infrastructure or attend school—these are just some of the issues addressed by non-profit organizations aiming to combat global poverty. XPRIZE, one such non-profit, comes at the problem from a different angle by focusing on what the organization believes to be a need for ending poverty and spurring development: competition.
According to the organization's website, "an XPRIZE is a highly leveraged, incentivized prize competition that pushes the limits of what's possible to change the world for the better." This group believes that innovation can solve the world's problems, and competition created by the website and sponsors will foster this innovation.
There are eleven highlighted prize competitions listed on the website: Adult Literacy, Global Learning, Qualcomm Tricorder, Google Lunar, Wendy Schmidt Ocean Health, Nokia Sensing XCHALLENGE, Ansari, Northrop Grumman Lunar Lander XCHALLENGE, Progressive Insurance Automotive, Archon Genomics and Wendy Schmidt Oil Cleanup XCHALLENGE.
Some of these have already had winners selected, some are just beginning and some have finalist teams chosen. These competitions each fall within one of the "grand challenge" categories, which are Energy and Environment, Exploration, Global Development and Learning and Life Sciences.
A number of competitions involve using technology to improve access to education or healthcare. The Ansari XPRIZE was the first competition in 1996 and was awarded in 2004 to Mojave Aerospace Ventures for the creation of an aircraft capable of private space flight.
This competition relies on public participation, as well. People around the world can go online to see the current competitions and the guidelines for each and can vote for which competitions they would like to see in the future. Furthermore, anyone can join or create a team, with the idea being to have experts and amateurs in fields working creatively to produce solutions to global issues.
Through this unique approach, according to its website, XPRIZE is "spurring innovation and accelerating the rate of positive change." By creating competition, problems caused by poverty are being and continue to be solved and brought to public attention.
– Rachelle Kredentser
Sources: Forbes, Philanthropy, XPRIZE 1, XPRIZE 2, XPRIZE 3
Sources: Global Learning XPRIZE
https://borgenproject.org/wp-content/uploads/logo.jpg
0
0
Borgen Project
https://borgenproject.org/wp-content/uploads/logo.jpg
Borgen Project
2015-10-02 08:18:26
2020-06-29 10:41:06
The Role of XPRIZE in Ending Poverty