Remembering Kosovo Genocide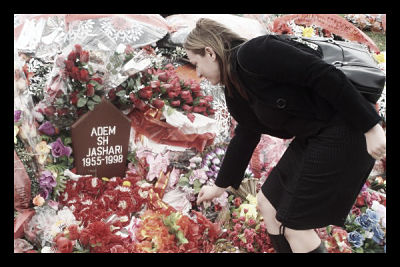 Ermira Babamusta, Ph.D is a guest writer and a Regional Director for The Borgen Project.
World Humanitarian Day is an opportunity to recognize those people around the world often in dangerous and difficult circumstances. This year I would like to pause and remember the tragic events in Kosovo and the humanitarian catastrophe of ethnic Albanians being killed, expelled and persecuted in their own land. The ethnic cleaning campaigns led by Slobodan Milosevic and the Yugoslav and Serb forces against Albanian civilians shall forever be recorded as dark years in the history of Albania and Kosova.
This August 19, 2013 as the world commemorates the fight against genocide, it is important to reflect on the historical aspects of genocide against ethnic Albanians. I dedicate this day to the Families of those who were harmed during the Kosovo Genocide.
As I witnessed the injustice being inflicted on the Kosovar refugees in 2007 and on the genocide survivors in 2012, I was reminded of their struggle to hang on and lead a normal life despite the horrible trauma they experienced. Today, I think about those who are still missing and their families who have no answers.
We have a great opportunity to learn from the past, become united and encourage leaders to build a better future. It is essential to peace, diplomacy and prosperity to ground our efforts on the four pillars of democracy: justice, good governance, economic development and social welfare.
I applaud America for leading the way in this effort of peace and democracy building. I had the chance to visit and meet with great leaders and US Congress members like Senator Harry Reid, Senator Tom Harkin, former US Secretary Colin Powel, UN Secretary General Kofi Annan, all of who share my commitment to peace, human rights and democracy. I applaud the brave actions and the extraordinary efforts of President Bill Clinton, former US Secretary Hillary Clinton, President Obama, Vice President Joe Biden, US Secretary of State John Kerry, Dr. Jill Biden and First Lady Michelle Obama for staying at the forefront of building and strengthening democracy in US and around the world and promoting human rights.
As J. F. Kennedy stated, "the world is very different now, for man holds in his mortal hands the power to abolish all forms of human poverty, and all forms of human life." This is the time to start the movement for global equality, promote human rights, improve governance and deliver justice around the world. I am proud that Albania and Kosovo are great successful models of such moral and democratic principles.
Ermira Babamusta, Ph.D
https://borgenproject.org/wp-content/uploads/logo.jpg
0
0
Borgen Project
https://borgenproject.org/wp-content/uploads/logo.jpg
Borgen Project
2013-08-19 04:17:08
2019-12-17 15:19:04
Remembering Kosovo Genocide