Improving Education Levels for Women in the Middle East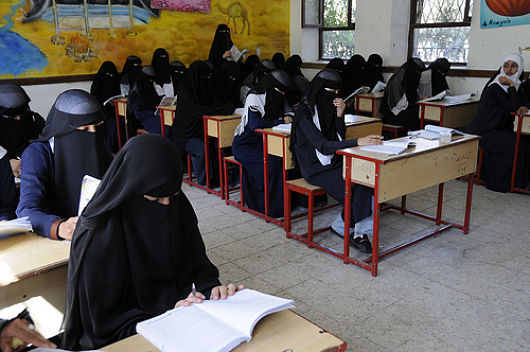 Women in the Middle East are subjected to extreme patriarchal systems that often deprive them of their human rights and their dignity. In 1995, Dr. Golnar Mehrah a UNICEF education consultant published a report titled "Girls drop out of primary school in the Middle East and North Africa."
In his report, Dr. Mehrah set out to discover why despite the fact that girls' enrollment rates had increased significantly since 1985, girls were dropping out before the 5th grade. In this report, he found that there existed a gender disparity in the enrollment of girls in primary school in the Middle East and North Africa. The primary reason for both male and female dropouts in the Middle East and North Africa region was poverty.
Their parents pulled them from school in order to help with domestic and agricultural tasks. In many cases, there were a lack of basic programs for students such as an available teacher for a given grade. In some villages in the Middle East and North Africa regions lack educators past a certain grade level making it difficult for students to be promoted to the next grade.
A report by the Population Reference Bureau on the Middle East and North Africa region sheds light on the challenges that women face in the region. Two key factors highlighted in the report was the MENA culture and the oil based economy. The report shows a clear gender biased toward men in the region.
In the report, women were asked if they could only afford to send one child to a university and they had a son and a daughter who would it be. An overwhelming majority of the women said they would pay for their son over their daughter to go to school. The statistics were shocking with 39 percent in favor of the son going on to higher education and only 8 percent in favor of the daughters.
There is a clear son preference in Middle Eastern culture that has privileged them with certain advantages in their society. In certain places in the MENA region this gender biased is enforced by a set of codified laws. This trend is slowly changing with the rise of women activists in Islamic society who demand better treatment for women.
Recently a news report from U.S. News and World Report shows a rise in enrollment rates for women in several countries in the Middle East and North Africa region as of 2014. The current global score for the Middle East and North Africa region is 31 which is actually higher than the global average of 30.
As foreign aid and development enter the region, many MENA countries are seeing the economic benefits of breaking away from rigid tradition and encouraging women's participation in education. Egypt, in particular, is making great strides toward women's education.
– Robert Cross
Sources: Public Reference Bureau, UNICEF Report, US News and World Report
Photo: Open Equal Free
https://borgenproject.org/wp-content/uploads/logo.jpg
0
0
Borgen Project
https://borgenproject.org/wp-content/uploads/logo.jpg
Borgen Project
2015-09-09 01:30:31
2020-06-30 09:31:53
Improving Education Levels for Women in the Middle East