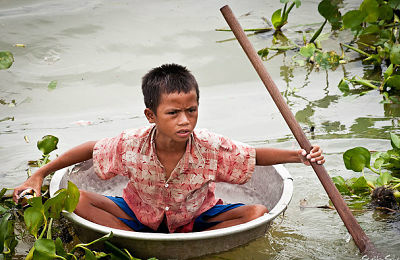 Cambodia is a country in Southeast Asia that is home to nearly 16 million people. The following statistics outline the poverty rate and socio-economic state of the country in order to help to answer the question: "Why is Cambodia poor?"
5 Answers to the Question "Why is Cambodia Poor?"
According to data collected this year, 14% of the Cambodian population sits below the National Poverty Line. This makes it the fourth poorest country in Southeast Asia.
According to an economic overview by the CIA World Factbook, Cambodia has experienced strong economic growth over the last decade. Between 2000 and 2010, the GDP of Cambodia grew at an average annual rate of more than 8%.  It has had a growth rate of at least 7% since 2011. Such improvements are due to the tourism, garment, construction, real estate and agriculture sectors, all of which have provided hundreds of thousands of individuals with new jobs.
Despite recent achievements, Cambodia remains one of the poorest countries in Asia. Further economic development is hindered by the nation's deep-rooted corruption, with most of the workforce throughout rural Cambodia unseen, toiling away in factories or subsistence farming. Limited human resources and high-income inequality are other influential factors of poverty in Cambodia. According to a study conducted in 2012, about 2.66 million only utilize $1.20 per day to survive. Worse still, 37% of Cambodian children under the age of five suffer from chronic malnutrition.
The necessary infrastructure to lift millions out of poverty has not been a priority for the Cambodian government.  Only 24% of Cambodians have access to electricity, 64% to clean water and 31% to adequate sanitation. Hospitals are also low-quality, and the impoverished cannot receive proper care and treatment.
Another possible answer to the question "why is Cambodia poor?" has to do with the quality of education made available to the country's population. While private schools have become more available and affordable, public schools are so ill-equipped that 75% of high-school students failed their graduation exams in 2014. This adds to the cycle of poverty already permeating the population.

Cambodia struggles due to ongoing corruption, a lack of adequate education and limited opportunities for employment. However, the Cambodian government has been working with donors such as the Asian Development Bank and the World Bank to address the country's pressing needs. Over time, to tackle major economic challenges, Cambodia must work to create an environment in which the private sector can produce enough jobs for its people and move forward from there.
– Mikaela Frigillana
Photo: Flickr
https://borgenproject.org/wp-content/uploads/logo.jpg
0
0
Borgen Project
https://borgenproject.org/wp-content/uploads/logo.jpg
Borgen Project
2017-07-11 07:30:50
2020-06-10 10:16:26
Why Is Cambodia Poor?