Water Quality in Thailand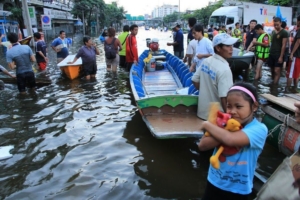 Sanitation and hygiene have improved in the past 20 years for the nearly 70 million people that live in the Kingdom of Thailand. Prior to the year 2000, many people lived without access to basic hygiene necessities or clean drinking water. Left untreated the domestic water could pose the risk of infectious disease. In some areas, this surface and groundwater is the primary source of water despite its contamination. Irregular flood and drought patterns could continue to pose a threat to Thailand's future in terms of water scarcity. This is both a domestic and global issue that needs to be addressed before water resources are endangered any further. These five factors that affect water quality in Thailand highlight the country's progress with regard to sanitation quality and practices as well as the problems they continue to face.
Water Quality and Scarcity
The Thai government's Pollution Control Department (PCD) has monitored the state of water quality since 1990. Overall, the trends in water quality in Thailand between 1993 and 2003 were average and stabilizing. With both agricultural and industrial pollution at play, poor water quality was reported in certain bodies of water including the Chao Phraya River, the Tha Chin River, the Lam Takhong River and Songkhla Lake. The following decade's rise in population size and economic development is now causing a strain on the availability of water resources.
Waterborne diseases can be contracted through eating or drinking contaminated substances from the local economy. Hepatitis A, Hepatitis E and Typhoid fever are the three leading infectious diseases in Thailand. All three are viral infections that can easily spread in areas of poor sanitation.
Droughts and Flooding
Thailand's water resources have diminished over the years due to disappearing wetlands, corroding watersheds and pollution. The climate in Thailand was not always erratic, but now intense flooding during the wet season and droughts during the dry season are commonplace. Wetlands used to be abundant, but today only 2 percent of the original wetlands still exist. Thailand has lost nearly 96 percent of its wetlands. Unless water resource management is improved, water shortages remain a potential threat to Thailand's future.
Flooding has been just as detrimental to Thailand's water supply as have repetitive droughts. Standing water from floods poses serious threats. Contaminated floodwater contains many unknown threats that can be harmful to health, causing symptoms like rashes, infections and illness. Severe flooding has left countless dead and thousands displaced. In September 2019, Thailand experienced extreme floods, resulting in 19 deaths. Although an assessment of the total is ongoing, floods have affected more than 150,000 households. The water quality in Thailand is heavily impacted by the continual irregular weather patterns that have taken over Thailand's climate.
Legislation
Sustainability in terms of water development and sanitation has been a part of Thailand's legislative value since 1980. The nation continues to support and attempt to improve sustainable natural resource management and environmental protection. It believes both are vital tools for the sustainable development of resources. Legislation has also placed value on addressing sanitation inequality by recognizing proper sanitation and water access as a human right. In addition to laws and efforts on Thailand's part, the U.S. has dedicated resources to improving sanitation in countries around the world as part of their Millennium Development Goals
Sanitation and access to clean water have a profound impact on the quality of life, especially in more impoverished areas. It has been shown that United States money that is invested in sanitation in developing countries is reintegrated at a rate of more than five times the original value since people are more likely to be happy, healthy and able to work. Promoting investment in global sanitation will help improve the quality of water in Thailand and have a lasting impact on Thai citizens' lives.
– Helen Schwie
Photo: Wikimedia Commons
https://borgenproject.org/wp-content/uploads/The_Borgen_Project_Logo_small.jpg
0
0
Jennifer Philipp
https://borgenproject.org/wp-content/uploads/The_Borgen_Project_Logo_small.jpg
Jennifer Philipp
2020-02-05 01:30:18
2020-01-31 18:52:07
Water Quality in Thailand