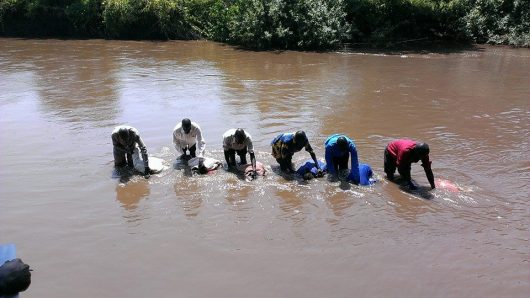 Water quality in South Sudan and clean water access has been a problem for a long time. However, Japan is trying to help with the Project for Improvement of Water Supply System in Juba.
Since 2012, Japan has been contributing money to the Republic of South Sudan—$310 million—in order to promote the development of a clean water supply.
Valentino Achak Deng, subject of  the 2007 novel "What Is the What", describes his childhood in the Republic of South Sudan. His story evokes empathy and increases awareness of the country's living conditions.
"I […] immerse my jerry can in the milky brown water. I fill the container, but am not satisfied with the amount of sediment inside."
Previously, Deng used to run to the river without a thought in order to fetch water for a woman he liked. The passage went on to describe Deng filtering the water through his shirt into a bowl. This process was normal for Deng—there was no question that the water he drank would come from the river.
The water situation in Sudan has not changed since Deng's childhood. South Sudan's 2010 Household Health Survey (SHS) found that only about 5.6 percent of households in have access to improved water sources and sanitation.
In Juba, the capital of the Republic of South Sudan, 13 percent of its residents can access municipal water. This water comes through either a small piped network, boreholes or a single public water filling station on the riverbank. Without clean water access, many of the Sudanese people end up fetching water from rivers, ponds and open wells.
Fetching water is the norm in the Republic of South Sudan—a behavior that must be broken. Otherwise, the population of the Republic of South Sudan will continue to catch water-borne diseases such as cholera and diarrhea. In addition, women and children will continue to lose time for employment and education opportunities.
Individuals used this contaminated water for drinking, food preparation and hygiene. As a result, the SHS found that poor water quality in South Sudan contributed to about 88 percent of deaths from diarrhea.
Fixing this problem will require considerable funds. To address the cost increase, the Japanese government allocated an additional $40 million toward the project. With this, they intend on keeping the original project scale.
Through this project, Japan aims to provide easily accessible clean water to 60 percent of Juba's population. An estimated 390,000 Juba residents will have clean water access by the end of September 2017.
Japan also encourages the women and children of Juba to spend more time on their personal and professional development rather than collecting water for their families.
However, because fetching water from rivers has been the norm in Sudanese behavior, community engagement is vital in this process. This improvement in water quality in South Sudan is vital, and it will vastly improve the lives of Sudanese citizens.
– Alice Gottesman
Photo: Flickr