Paani Project Improves Water Access in Pakistan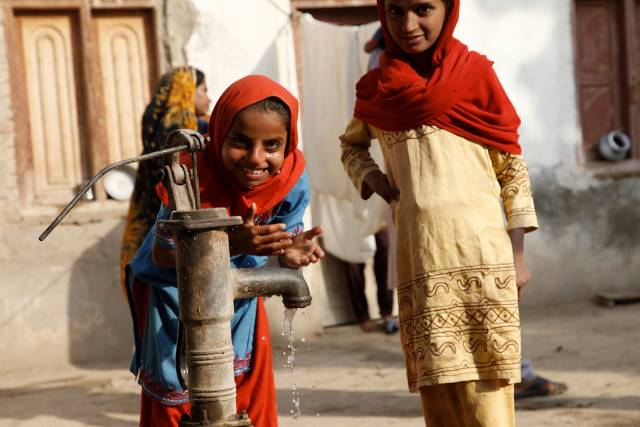 Just a few months after assuming office in 2018, Pakistan's Prime Minister Imran Khan issued a dire declaration to his nation, pronouncing the water crisis to be the most pressing problem facing Pakistan today. Soon after, one team of Pakistani-American college students decided to launch the Paani Project to address the issue. Since then, the group has made astounding strides toward improving water access in Pakistan.
The Water Crisis in Pakistan
The Paani Project is addressing one of the most acute water crises in the world today. With a population of 212 million, poor water management, climate change and intensive agriculture, access to clean water can be scarce. An estimated 40% of deaths in the country are linked to unclean water.
Pakistan also has a shocking disparity in water access between its urban and rural areas. With up to 70% of rural regions having no access to clean water, millions in Pakistan's more remote areas face a severe risk to their health and livelihoods.
Origins of the Paani Project
In order to combat this critical issue, four University of Michigan students decided to launch the Paani Project. The mission began on a local scale. For three months, on their way to class and around campus, the students would sell doughnuts, slowly collecting enough funds to build their first well in a rural region of Pakistan's southeastern province of Sindh.
Since funding their first well, the team has put hours of effort, collaboration and organization into the project, creating a fully functioning nonprofit that has seen widespread success.
The Paani Project Impact
With over 850 wells built across rural areas as of 2020 and more than $300,000 donated, the Paani group has made an undeniable impact in improving water access in Pakistan. Their work has spread from Sindh to Khyber Pakhtunkhwa and Balochistan, serving rural needs across the country.
In addition to building wells, the project has also diversified its mission by leading a number of different humanitarian efforts around the country. In Azad Kashmir, Paani led a winter coat drive and in Karachi, the group operated a dental clinic to provide care for those that would not have access otherwise.
The organization has also provided relief from the COVID-19 pandemic by providing food to thousands of workers in Khyber Pakhtunkhwa and Sindh who rely on daily wages to support their families.
Other Initiatives
Paani also believes that education is an important step in combatting poverty and increasing water access in Pakistan. With every well that has been built, Paani has held "hygiene education seminars" to teach community members about proper sanitation practices and how to maintain the well. The group has also helped develop education curriculums in Sindh, through which they hope to increase knowledge about the water crisis and proper hygiene practices.
Although Pakistan's water crisis is one that continues to make headlines and threatens the lifestyles of millions of people across the country, work by organizations such as Paani has helped to turn the tide. With tens of thousands of people directly reaping the benefits of Paani's wells, the group's contributions are sure to be much more than just a drop in the bucket in the fight for universal water access in Pakistan.
– Shayaan Subzwari
Photo: Flickr
https://borgenproject.org/wp-content/uploads/logo.jpg
0
0
Saiesha
https://borgenproject.org/wp-content/uploads/logo.jpg
Saiesha
2020-09-29 04:57:26
2020-09-29 04:57:26
Paani Project Improves Water Access in Pakistan