Vietnam Green Growth Strategy Promises Sustainability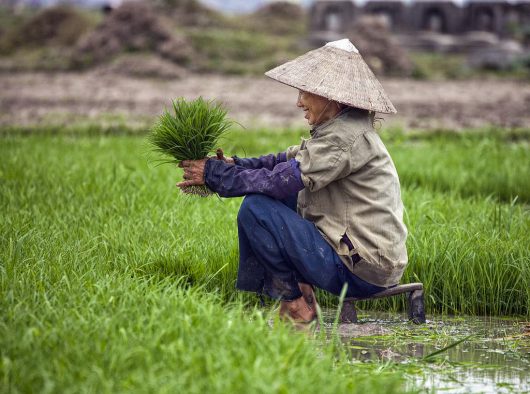 In the face of increasing pressure on natural resources, Vietnam has demonstrated great commitment to sustainable growth and development. Launched in September 2012, the Vietnam Green Growth Strategy aims to restructure economic efficiency, cope with climate change and reduce poverty within the country.
Vietnam has experienced rapid growth in recent years, but this progress has also put pressure on the country's natural resources. Poverty in Vietnam declined from 49.2 percent in 1993 to 3.2 percent in 2012.
As unfortunate side effects of this achievement, air pollution levels rose in major cities, rivers became more polluted, greenhouse gas emissions almost tripled between 2000 and 2010, and climate-related disasters began to devastate rural and coastal regions.
In response to increasing strains on the environment, the government adopted the Vietnam Green Growth Strategy in 2012, with the ultimate goal of creating a more sustainable footing for the national economy while further reducing poverty.
The Green Growth Strategy seeks to accomplish its goals largely by encouraging businesses to move towards greener practices and help new businesses develop along green lines. Focusing on business practice reform paves a strong foundation for lasting growth, as "green investment is good investment," according to Pratibha Mehta, UNDP resident representative.
If successful, the strategy would reduce the intensity of greenhouse gas emissions by 8-10 percent as compared to the 2010 levels, reduce energy consumption per unit of GDP by 1.5 percent per year, reduce greenhouse gas emissions from energy activities by 10-20 percent as compared to standard current rates, and promote green lifestyles and sustainable consumption among Vietnamese citizens.
The World Bank is supporting Vietnam's progress through investments that steer the energy sector towards lower carbon options. By focusing on restructuring the economy and business practices, Vietnam is showing a strong effort to create large-scale and lasting green growth.
The Vietnam Green Growth Strategy is further supported by a partnership between Vietnam's Ministry of Planning and Investment, the United States Agency for International Development and the United Nations Development Program. This partnership assembled a supplemental framework that accelerates Vietnam's ability to implement green growth policies. The Strengthening Capacity and Institutional Reform for Green Growth and Sustainable Development in Vietnam project supports capacity building and encourages policy reform along Green Growth lines.
Thus far, five ministries and almost 30 localities in Vietnam have implemented green growth strategies. The steps taken include resource mobilization, institutional and policy improvement, capacity enhancement, and technology improvement.
The Vietnam Green Growth Strategy is guiding both rural and urban development toward substantial and sustainable growth. By integrating green growth with national policies, the initiative is positioning Vietnam to achieve the sustainable development goals.
– McKenna Lux
Photo: Flickr
https://borgenproject.org/wp-content/uploads/logo.jpg
0
0
Borgen Project
https://borgenproject.org/wp-content/uploads/logo.jpg
Borgen Project
2016-11-21 01:30:08
2020-05-18 10:12:00
Vietnam Green Growth Strategy Promises Sustainability