Advancing Peace Talks: Where are the Female Peacekeepers?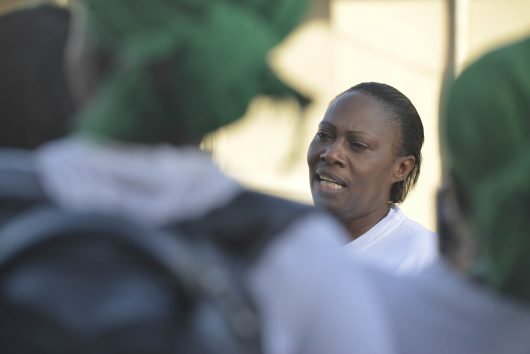 Nearly 16 years ago, in response to the disproportionate amount of violence against women in countries enduring post-war conflicts, the U.N. adopted resolution 1325. The resolution targets the issue that when countries that have achieved reform, the post-war conflicts frequently bring more violence, specifically more violence toward women.
The U.N. Security Council resolution 1325 calls for the inclusion of women in all efforts maintaining and promoting peace and security. Even though the likelihood of achieving peace increases when female peacekeepers are included in the discussion, women living in countries that are at war often remain ignored.
Research has confirmed that women are a significant influence in promoting peace. Also, humanitarian efforts are more effective with women's participation. The inclusion of female peacekeepers yields stronger protection efforts for U.N. peacekeepers, contributes to the implementation of peace talks, and accelerates economic recovery.
Experience has shown the inclusion of women in U.N. peacekeeping missions elicits more trust in communities and result in peace operations that are more customarily fit to a communities' protection needs. Peace negotiations recommended by women are more likely to be accepted and retained.
However, women in countries where terrorism and extremism are prevalent face disparity, and the fragile state contexts affect their rights. Women often are forced into marriage, forced to engage in sexually based crimes prohibited to get an education or get a job or even engage in public life.
Despite the strides made by the U.N. to integrate women into the peace-building agenda to combat these problems, there has not been much progress since the resolution was first adopted by countries in 2000. There have been reports of incidents wherein U.N. peacekeepers preserved sexual violence and stood by as women were raped. The inclusion of women in peacekeeping operations could diminish the chances of this occurring.
In order to better serve women, the individuals most affected by post-war conflicts, there must be women within the peacekeeping force. Having female peacekeepers who can understand the difficulties and threats women face will better enable the effort to ensure safety. Thus, enforcing a concrete number of women to be included in peace operations is a way to hold U.N. peacekeeping operations accountable.
Although war impacts all, women can address this issue and improve conditions for women more so than men, yet women continue to be excluded from peace talks. 55 countries have adopted national strategies to implement the resolution, and an additional 10 have pledged to do so.
It is still up in the air whether these countries' political wills for the inclusion of women in peace talks be translated into political action. In order for U.N. peacekeepers to actually fulfill their political wills, it would be accommodating for them to provide a target number of female peacekeepers to include in their peacekeeping operations.
– Kayla Mehl
Photo: Flickr
https://borgenproject.org/wp-content/uploads/logo.jpg
0
0
Borgen Project
https://borgenproject.org/wp-content/uploads/logo.jpg
Borgen Project
2016-09-10 01:30:08
2020-06-06 07:23:49
Advancing Peace Talks: Where are the Female Peacekeepers?