U2's Charity Work: Global Relief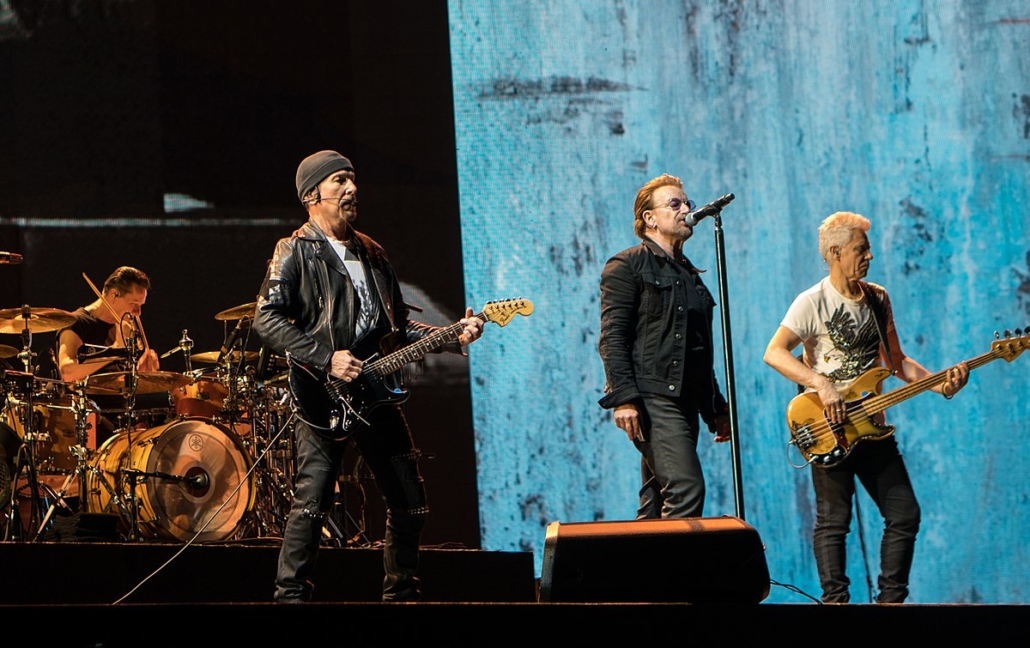 Throughout its career, the band U2 has played for tens of thousands of people and gained millions of fans worldwide. The band's influence, however, has gone beyond its music, as it has impacted millions of people with its charity work. Various members have done both individual charity work as well as work through the band. The band members' collaborative efforts include poverty relief, disaster relief and health and human rights work. This article will highlight a few important instances of U2's charity work.
Bono's Work With ONE & RED
ONE is a campaign that Bono, U2's lead singer and other activists co-founded. The campaign's aim is to fight extreme poverty and preventable diseases. In order to achieve this goal, Bono has personally met with heads of state and lobbied governments to pass legislation. Grassroots efforts and ONE's lobbying for legislation have saved millions of lives over the last 10 years through newly funded government policies. Bono also co-founded RED, an organization that raises awareness and funds to help fight the AIDS crisis. RED has raised $600 million to date, which primarily goes toward AIDS treatment and prevention in Africa.
Disaster Relief Concerts
Throughout U2's existence, it has played numerous concerts and events to raise money for various disaster relief benefits. In 1984, Bono and U2 bassist Adam Clayton performed at Band Aid, and in 1985, U2 performed at Live Aid. Both events raised money for famine relief in Ethiopia. The next year, in 1986, the band participated in A Conspiracy of Hope tour on behalf of Amnesty International, an organization that focuses on protecting human rights around the world. That same year, it also performed for Self Aid, which helped the homeless in Ireland. On the 20th anniversary of Live Aid, U2 played the Live 8 concert in London. This concert supported the Make Poverty History campaign.
Other Assorted Charity Work
Beyond Bono's work with ONE and RED and the band's charity concerts, U2 has participated in other charitable work. For instance, Bono teamed up with Muhammad Ali in 2000 for Jubilee 2000, which called for the cancelation of third world debt. Bono also founded the organization DATA, which aims to improve the political, financial and social state of those living in Africa. Bono has visited Africa on numerous occasions in an attempt to raise funds and awareness for AIDS relief. Additionally, the band donated all of the proceeds from the release of its song "Sweetest Thing" to Chernobyl Children International, which works to give those the 1986 Cherynobl accident affected medical and economic help. Most recently, U2 donated €10 million for personal protective equipment for healthcare workers on the frontline fighting COVID-19.
U2 has impacted millions of people around the world, not just with its music, but with its charity as well. U2's charity work has helped millions of people around the world. In particular, Bono's work with ONE and RED has helped fight against poverty and the AIDS epidemic. The band has also worked together, using its music directly by playing a variety of concerts to raise money for important causes. Even as the world grapples with the devastating effects of COVID-19, U2 has continued providing people in need with generous humanitarian aid.
– Zachary Laird
Photo: Wikimedia Commons
https://borgenproject.org/wp-content/uploads/logo.jpg
0
0
Kim Thelwell
https://borgenproject.org/wp-content/uploads/logo.jpg
Kim Thelwell
2020-09-11 01:31:05
2020-09-10 09:14:59
U2's Charity Work: Global Relief