Eliminating Trachoma in Developing Countries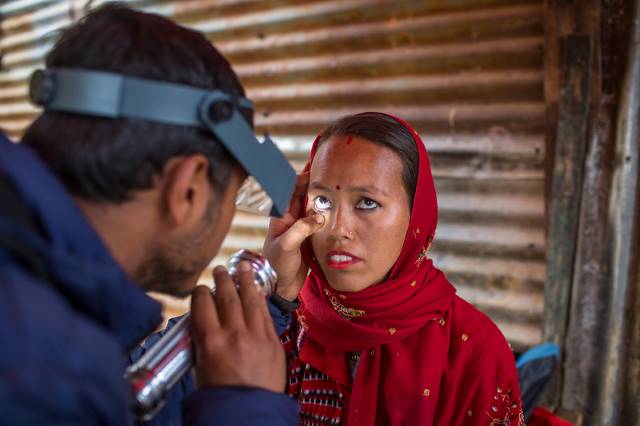 Trachoma, an unsung yet highly infectious disease, is listed by the World Health Organization (WHO) as the leading cause of blindness across the world. Data from March 2020 indicates that 137 million people live in areas that put them at risk of trachoma. It is estimated that several million people suffer from the disease worldwide, across 44 different countries. The disease is easily transmitted between two people and its effects can be devastating. The WHO has prioritized the elimination of trachoma in developing countries, where trachoma is common.
Trachoma and its Effects
The WHO reports that "transmission occurs through contact with infective discharges from the eyes and nose, particularly in young children, who harbor the main reservoir of infection. It is also spread by flies which have been in contact with the eyes and noses of infected people." If left untreated, it can cause irreversible blindness. Trachoma also deeply affects the quality of life of families and entire communities where it is present as people with trachoma are often prevented from working and providing for their families. Additionally, women get trachoma at much higher rates than men because they are much more exposed to potentially infected children.
Trachoma Elimination Progress
Over the past two decades, significant work has been done in countries where trachoma is endemic, in order to eradicate the disease once and for all. This work has been extremely effective. Since 2002, those at risk of trachoma in developing countries and across the world have dropped 91%. Although that equates to 142 million people, the number is down from 1.5 billion people in 2002, which is progress on an incredible scale. Anthony Solomon, a medical officer in charge of WHO's global trachoma elimination program, states that "We should be able to relegate trachoma to the history books in the next few years but we will only do so by redoubling our efforts now. The last few countries are likely to be the hardest. This is great progress but we cannot afford to become complacent."
The Carter Center
In addition to the WHO, a number of different NGOs have been working to lower rates of trachoma, in developing countries especially. The Carter Center, founded by former U.S. president, Jimmy Carter, is an organization with a huge scope. Causes that the organization supports include peacebuilding, healthcare and human rights across the globe. The Carter Center's commitment to ending trachoma is integral as it has provided resources such as eyelid surgery and other medical services for trachoma and is working to improve the environmental conditions of trachoma endemic countries. The Center states that "Over the course of 20 years (1999 to 2019), the Center has assisted national programs in providing 846,219  trachomatous trichiasis surgeries in Ethiopia, Mali, Niger, Nigeria, South Sudan and Sudan." Although Trachoma can be potentially life-changing if left untreated, there are definite medical steps that can be taken before it reaches that point. The Carter Center and other organizations like it are providing crucial resources in order to save lives and eliminate trachoma in developing countries.
Trachoma's Link to Poverty
Ultimately, eliminating trachoma in developing countries not only means improving the physical health of those who are currently at risk but it would greatly lower poverty rates in those same countries as well. Trachoma hurts the local economy, which in turn has a global impact. Providing the necessary healthcare and aid to those struggling with trachoma will in turn boost the quality of life in dozens of countries, therefore improving the global economy and allowing trade to flourish worldwide. The WHO Alliance for the Global Elimination of Trachoma by 2020 (GET2020 Alliance) set a target to eliminate trachoma entirely by 2020. While that goal may have been missed, significant progress has been made and blindness rates are likely to continue falling rapidly in the coming years.
– Leo Posel
Photo: Flickr
https://borgenproject.org/wp-content/uploads/logo.jpg
0
0
Lynsey Alexander
https://borgenproject.org/wp-content/uploads/logo.jpg
Lynsey Alexander
2021-01-30 01:30:23
2021-01-30 05:50:07
Eliminating Trachoma in Developing Countries