Top Civil Rights Leaders: A Timeline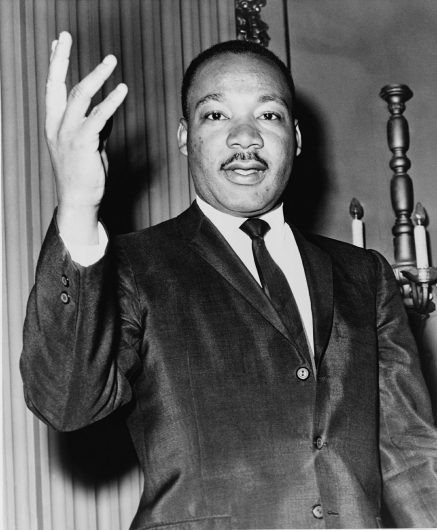 During the earlier years of U.S. history, slavery and oppression created some of America's oldest top civil rights leaders. Susan B. Anthony, Chief Joseph, Rosa Parks and Martin Luther King Jr. are only a few of the many people who fought back in the face of adversity.
Paving the Way
1851: Susan B. Anthony and Elizabeth Cady Stanton are two big names in women's civil rights. Together, they worked toward social and political advances for women. They established the American Equal Rights Association, which aimed to earn women and African American men voting rights. Other accomplishments were forming the Women's Loyal National League, which gave women a political platform, and writing an amendment that was proposed to the Senate every year for 40 years. These two women are responsible for some of the rights American women have today.
1853: Harriet Tubman is one of the most well known civil rights leaders associated with U.S. slavery. Tubman helped more than 300 slaves reach freedom with the well-known Underground Railroad. Tubman saved her own money, and supporters donated funds to help her continue her mission to free enslaved African Americans. While Tubman is most famous for her work with the Underground Railroad, she also provided invaluable services during the Civil War.
1877: In an effort to avoid the slaughter and oppression of his tribe, Chief Joseph led the Nez Perce people on a 1,400-mile journey from the Wallowa Valley (now Oregon) toward Canada. This four-month long venture was treacherous for the Nez people. Many of the original 700 had lost their lives and the remaining could not continue, which forced Chief Joseph to surrender just 40 miles from the Canadian border. Although he admitted defeat in the end, Chief Joseph is one of the top civil rights leaders because he stood up to fight for what he believed in while facing an oppressive government.
These inspirational people carved the road for the next civil rights leaders to come a century later.
Civil Rights Movement
1955: Rosa Parks faced discrimination on a bus ride, where she was asked to give up her seat to a white man. She refused, which led to her arrest and her rise to civil rights leadership. Her wrongful arrest led to the Montgomery Bus Boycott, a protest by 17,000 African American citizens. This caused a substantial drop in revenue and a Supreme Court ruling to desegregate the Montgomery buses, because the law was deemed unconstitutional. Parks received severe backlash after the boycott and even lost her job as a tailor, but she still persevered. Parks is one of America's top civil rights leaders because she continued the fight for African Americans and created change.
1963: Dr. Martin Luther King Jr. is maybe the most famous champion of human rights. He led peaceful marches and demonstrations protesting the discrimination African Americans faced in the U.S. His movement inspired the Civil Rights Act of 1964, and his words are often the inspiration of equality speeches today. Dr. King was faced with arrest, hate and violence from the people of Birmingham, Alabama. Yet he stood tall in the face of controversy and remained peaceful throughout his civil rights leadership. He preached of a world in which people were no longer divided by race, a message which still resonates with many today.
1965: Malcolm X faced racism all his life and channeled it through anger for a significant portion of his activism. He was known for a radicalized activism during the Civil Rights Movement and was viewed as a black nationalist who had an alternative approach to change. It was widely known that his delivery of the message of change contrasted Dr. King's peaceful message. However, toward the end of his civil rights leadership, he had an apparent ideological change. Unfortunately, like many other civil rights trailblazers, he was assassinated before he could see a significant change in America.
The Fight Continues
The effortless work of past civil rights leaders has not ended; they merely passed the torch on to activists fighting today. Some of the current top civil rights leaders are:
Tarana Burke: Burke fights for the rights of victims of sexual assault and abuse. She is also the creator of the Me Too movement.
Alicia Garza, Patrisse Cullors and Opal Tometi: Creators of the Black Lives Matter group, which protests police brutality and institutional racism.
Chad Griffin: President of Human Rights Campaign, which is one of America's largest gender and sexual minorities civil rights organization.
Nihad Awad: The leader of the Council on American-Islamic Relations, an Islamic advocacy organization that monitors hate crimes, profiling and discrimination against Muslim Americans.
Benjamin Crump: A civil rights attorney who speaks and represents cases for minorities who have experienced police brutality.
Michelle Alexander: Alexander is a civil rights lawyer who works against the systematic racial oppression of the African American men that disproportionately fill the nation's prisons.
Throughout history, people have fought for their own civil rights around the world. Whether it was Nelson Mandela creating a national strike against the South African government, Malala Yousafzai journaling girl's right to education, or Mohandas (Mahatma) Gandhi refusing to get out of his first-class seat on a train—activism is everywhere and has a ripple effect. Through protesting and standing up for their own rights, these former and current activists have made the top civil rights leaders list.
– Courtney Hambrecht
https://borgenproject.org/wp-content/uploads/logo.jpg
0
0
Borgen Project
https://borgenproject.org/wp-content/uploads/logo.jpg
Borgen Project
2018-04-01 01:30:26
2019-11-17 11:56:52
Top Civil Rights Leaders: A Timeline