Top 10 Disaster Relief Nonprofits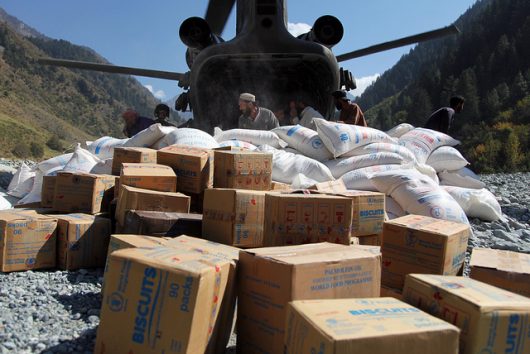 In 2017, 318 natural disasters were recorded worldwide with repercussions in at least 122 countries. These disasters killed over 9,500 people and affected 96 million. The majority of those affected by natural disasters reside in India and Sierra Leone.
Natural Disasters and Poverty
According to the World Bank, natural disasters force 26 million people into poverty annually and can erase years of poverty reduction progress. The estimated effects that natural disasters can have on welfare in most countries is equivalent to a loss of $520 billion per year in consumption.
Natural disasters and poverty are linked together as impoverished populations are unequally affected and have an inability to subsist. The poor are more likely to be exposed to natural hazards due to climate change. Furthermore, those affected lose a portion of their income and are often unable to receive aid from the government and financial systems.
An example of the disproportionate burden of natural disasters endured by the poor is Cyclone Nargis in Myanmar. Following the cyclone in 2008, at least 50 percent of poor farmers were forced to sell land as means to pay off debt after the storm. The cyclone's social and economic consequences still exist 10 years later.
President Jim Yong Kim of World Bank Group said: "Storms, floods and droughts have dire human and economic consequences, with poor people often paying the heaviest price. Building resilience not only makes economic sense, it is a moral imperative."
In order to rebuild a country after a natural disaster, there must be an immediate response from governments and disaster relief programs. Those affected need access to resources like food, shelter and medical care. Various disaster relief nonprofits are working to lessen the burden of the impacts of natural disasters around the world.
Top 10 Disaster Relief Nonprofits
Listed above are only a few nonprofit organizations making an effort to relieve communities of as much suffering as possible after a disaster. Though there are many more disaster relief nonprofits dedicated to providing aid, this list highlights some of the support is available after a disaster. For a more comprehensive list of disaster relief nonprofits, take a look at The Humanitarian Travel website.
Since natural disasters can have catastrophic effects, the issue is being taken seriously as various improvements are being made annually. In order to successfully rebuild communities, it is crucial to support disaster relief nonprofits with a long-term impact and policies in favor of foreign aid.
– Diane Adame
Photo: Flickr

https://borgenproject.org/wp-content/uploads/logo.jpg
0
0
Borgen Project
https://borgenproject.org/wp-content/uploads/logo.jpg
Borgen Project
2018-09-30 01:30:23
2021-09-20 12:25:40
Top 10 Disaster Relief Nonprofits