The Impact of Torrential Floods in Africa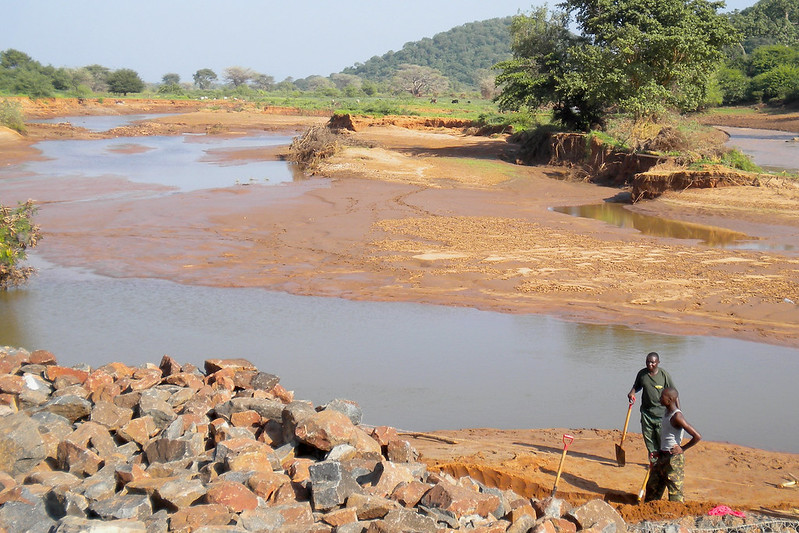 Africa is the second-largest continent with a population of 1.4 million as of 2022, making it the second most populated continent. Africa has an extreme poverty line of 46% in rural areas and 9% in urban areas, with an equal split of poverty between males and females from 30 to 31%, leaving 431 million people living in poverty. In 2022, torrential floods hit many regions in Africa and in the KwaZulu-Natal area, 398 people were reported dead with 27 still missing. The heavy rain destroyed many homes, leaving thousands of people homeless, sinking cargo containers and ruined soil, leaving many farmers without work and families without food during winter.
Factors of Torrential Floods
The National Weather Service (NWS) does not formally recognize torrential rain as a weather term. Instead, ThoughtCo described it as "rain that is especially heavy." Heavy downpours are classified as rainfall with a rate of 0.3 inches or more per hour that occurs when the moisture in the air mass is larger than its own size. For example, when your sink is plugged, the water will eventually overflow if not turned off, but if it's unplugged, the water can never outweigh the sink and is held. One can usually catch torrential rain on weather radars and weather services will give different levels of warning if the rain is dangerous enough not to resume daily life as it can cause runoffs, flooding and mudslides.
The Impact of Torrential Floods in Africa
Recent torrential floods have impacted Africa's farms, including huts, crops and livestock, especially in West and Central Africa. In more than 12 countries, 4 million people have lost a substantial number of crops due to torrential floods in 2022, where many farmers not only supply stock for other people but also rely on their farms for their own use. Six million hectares of farmland are underwater, where the soil has lost its properties to continue growing healthy crops.
With the current season's harvest ruined by torrential floods, many farmers worry about the future of their farms. Many farmers travel long periods of time to reach their farms, trying to save what they can to survive this season and the rest of the year. While some have managed to save enough for a month, families will become famished over the winter and it is unlikely that the soil will be able to produce healthy crops until after the new year in 2023. The chairman of the Associations of Sorghum Producers, Processors and Marketing for the northeastern Borno state, Goni Alhaji Adam, stated that the floods are "the worst he had seen in two decades," Al Jazeera reports.
Besides the impact of torrential floods in Africa, other things also had a hand to play in the destruction of farms. Due to conflict in the Sahel region, almost 8 million people faced displacement, many of whom were farmers that could not tend to their land due to the pandemic, according to Al Jazeera. 8% of displaced citizens were agropastoral farmers, meaning they take care of agriculture and livestock simultaneously. Also, with the drought and the Ukraine-Russian war, fertilizer supplies dropped significantly, meaning farmers could not produce as many crops.
Looking Ahead
In order to achieve better nutrition and reach their goals by 2030, Africa is asking for collaboration from multiple countries around the world to help in any way they can. Those who cannot afford farm or crop management need support with food security, nutrition and health, cleaner water and education to prepare for the winter and next year. To achieve SDG 2, the agrifood system also needs support. For example, stakeholders need to "transition to more efficient, inclusive, resilient and sustainable agrifood systems" to ensure stronger and healthier production and nutrition to provide a safer environment and a better quality of life.
Africa was making an improvement in food security, however, from 2019 to 2020, Africa was not on track and had seen a dangerous increase in malnourishment that reached 89.1 million people. Where the torrential floods have impacted Africa, 26.7% of food insecure people are from the West and 20.3% are from Central Africa, some of the higher rates compared to the rest of Africa, according to FAO report.
Before the impact of torrential floods, the pandemic, draught and the Ukraine-Russian war, Africa already faced a food security issue. In Nigeria, in two regions, floods have destroyed 30% of maize crops. The president of Nigeria's Maize Growers and Processors Association, Edwin Chigozie Uche, have started the process of analyzing soil and its nutrients where the floods have subsided to determine when farmers can continue farming, Al Jazeera reports. Though, a significant number of farmers are small-scale and cannot afford soil fertility tests and other farm management methods. Due to this, it is unlikely they will be able to farm the following year without help.
Another bid to lessen the impact of torrential floods in Africa that the army, police and volunteer rescuers use to distribute clean water and soon deploy water tankers. The government has provided 1 billion rands ($58 million) in emergency relief funding. More than 4,000 police officers are supporting relief efforts and keeping citizens safe and orderly due to reports of theft, The Guardian reports. The South African weather service has announced future storms and flooding that could enable citizens to prepare.
– Deanna Barratt
Photo: Flickr
https://borgenproject.org/wp-content/uploads/logo.jpg
0
0
Jennifer Philipp
https://borgenproject.org/wp-content/uploads/logo.jpg
Jennifer Philipp
2022-12-04 01:30:22
2022-11-30 11:27:16
The Impact of Torrential Floods in Africa