The Hidden Disability: Visual Impairment in Refugees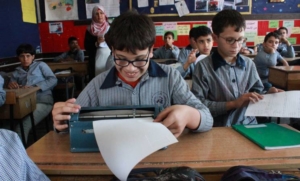 Last year, there were an estimated 70 million forcibly displaced individuals in the world. NGOs and governments stepped up by providing funding for food, water, sanitation, education, and healthcare, but visual impairment in refugees is rarely ever prioritized.
Vision Impairment is a Major Life Obstacle
Eye care is something often overlooked when organizations are administering urgent medical treatment to refugees–in most cases, eye injuries are not considered life-threatening. While an eye injury may not be fatal, it can greatly reduce the quality of life. This was the case for 10-year-old, Hala Shaheen, who suffered retinal detachment before the outbreak of the Syrian War and was undergoing treatment to fix the issue. She required specialist care and regular check-ups.
However, when chaos and violence broke out in Syria, Hala and her family were forced to flee to the Rukban refugee camp between Syria and Jordan, where no eye care specialist could be found. Now Hala is blind in one eye and her vision in the other eye is continuing to deteriorate. When asked about her condition, she told reporters, "I don't want to continue living with this level of pain and suffering."
Refugees like Hala do not have the resources to prevent or tackle blindness, Hala could have retained her vision. Blindness prevents her from experiencing life fully. Since braille is not readily taught, getting an education is difficult. Hala's condition forces her to be dependent on her family. When blindness presents itself in adult refugees, it stops them from being productive workers and the extra burden is placed on their family's shoulders. Thankfully, some NGOs have identified this problem and are on their way to creating better conditions to fight visual impairment in refugees.
Bringing Clarity to the Visually Impaired
NGOs and charities are assembling coalitions all over the world to find solutions for visual impairment in refugees. The main mission is to provide diagnostic services and visual assistance to those who need it.
The International Agency for the Prevention of Blindness (IAPB) is working in Cox Bazar, a Rohingya refugee camp of over 900,000 people, has created an eye care plan to fight visual impairment in refugees. They plan to provide over 150,000 eyeglasses each year and deploy 30 optometrists and 30 ophthalmologists to conduct Rapid Assessment of Avoidable Blindness (RAAB) exams. These exams are vital in the prevention of blindness and vision loss, which can be the result of neglected chronic eye disease. In Cox Bazar, there is an estimated 30,000 at risk for diabetic eye disease and 70,000 at risk for glaucoma. If left untreated, it could result in a massive amount of vision loss.
There are numerous other coalitions like the IAPB. VisionSpring works with EYElliance in Ghana and Liberia to provide glasses to children and launch country-level initiatives to identify visual problems in refugees. SightGeist is an annual conference of companies and organizations from various sectors who come together and use their resources to provide visual assistance and preventative care to those affected by visual impairment. NGOs like Light for the World work together with Warby Parker, an eyewear company, and Aravind Eye Care System, a chain of hospitals in India, to come up with solutions to problems that are too large to tackle alone.
Gender and Visual Impairment
Another aspect of visual impairment in refugees is gender. Women and girls are disproportionately impacted by visual impairment, accounting for two-thirds of those with severe vision loss. This can be due to the impact of traditional female roles, like having to collect water and wash clothes. These duties put them at risk of being bitten by blackflies which transmit parasites that destroy vision. In developing countries, women are typically not in charge of finances, so they have less control over the budget and cannot pay for healthcare. Women are also often too busy taking care of the home and may not even know where to go to access eye care.
Visual impairment in refugees, particularly females, deepens their plight; those who are visually impaired are more likely to suffer sexual violence and shamed by their families. Programs like CATCH in Uganda and Lady Health Worker in Pakistan are reaching out to these women. CATCH conducts exams to detect visual impairment early and provide preventative care to women. The Lady Health Worker program empowers female workers to provide healthcare and eye care to women and children in their own communities. Simply bringing attention to eye care and reducing the stigma of visual impairment can vastly improve lives.
Visual health underpins many of the Sustainable Development Goals put forth by the U.N. It is up to these organizations now to spread the word and see to it that visual impairment in refugees and developing countries become a greater priority for donors.
– Julian Mok
Photo: Flickr
https://borgenproject.org/wp-content/uploads/logo.jpg
0
0
Kim Thelwell
https://borgenproject.org/wp-content/uploads/logo.jpg
Kim Thelwell
2019-07-21 09:45:03
2019-07-21 09:45:03
The Hidden Disability: Visual Impairment in Refugees