TB Elimination Alliance Serves AAPI Communities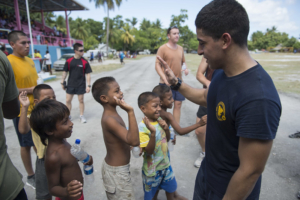 Launched in 2019, the TB Elimination Alliance (TEA) is an organization ending tuberculosis in underrepresented Asian American and Native Hawaiian/Pacific Islander populations. Currently, 13 million people have latent tuberculosis infection (CDC, 2023). Of this number, 36% of Asian/Asian Americans and 25% of Native Hawaiians and Pacific Islanders have tuberculosis. To help combat the high rates of tuberculosis in these communities, the TB Elimination Alliance has four goals: outreach, awareness, resource sharing and partnership development.
Outreach
TEA's primary goal is to reach "underserved AA and NH/PI communities with the highest TB burden." One way the organization achieves its goal is by contacting community health centers. For instance, in 2022, TEA invited the health centers to complete surveys that collect data on the needs of the Asian and Native Hawaiian/Pacific Islander community, specifically regarding tuberculosis, so that the organization could know how to help them best.
Awareness
The second goal of TEA is to raise awareness about tuberculosis treatment and testing. One way TEA does this is by providing a summary of the U.S. recommendations for testing and treatment on its website for people who need access to that information. The organization also creates webinars for health care workers and companies that "discuss successful strategies for screening, testing and treatment in high-need populations in community health care settings." The webinars aim to raise awareness in the health care community of the issues facing high-risk populations regarding tuberculosis.
The Tuberculosis Elimination Alliance and Hep B United also hold an annual TB Summit with "workshops, panels, networking" with the goal of "celebrating the achievements and progress towards hepatitis B and tuberculosis elimination". The publicity surrounding this event also brings awareness about tuberculosis to Asian and Native Hawaiian/Pacific Islanders communities.
Sharing Resources
The third goal of the Tuberculosis Elimination Alliance is to share resources and information with communities at high risk for tuberculosis. One resource the organization shares is a self-study module about tuberculosis on its website.
Additionally, the organization also hosted a webinar titled "Quality Improvement Strategies for Latent Tuberculosis Infection (LTBI) Testing and Treatment in Asian American- (AA-), Native Hawaiian (NH-), and Pacific Islander- (PI-) Serving Health Centers: Standardized Data Collection Opportunities" so that the health care companies and workers were not only informed on the issues facing high-risk communities but knew how to respond to these issues as well.
Developing Partnerships
The fourth goal of the Tuberculosis Elimination Alliance is to develop partnerships with other organizations to "scale existing initiatives." It partners with STOP TB USA, which aims to " strengthen the ability to search for, treat and prevent TB."
Another partner of the Tuberculosis Elimination Alliance is the Asian and Pacific Islander American Health Forum. This organization works to "influence policy, mobilizes communities, and strengthens programs and organizations to improve the health of Asian Americans & Native Hawaiians/Pacific Islanders." 
The Tuberculosis Elimination Alliance finally partners with local clinics like Hope Clinic, which provides health care in "over 30 languages."
Influence
Through outreach, awareness, sharing resources and developing partnerships, the Tuberculosis Elimination Alliance has helped many people. Since the organization began in 2019, $573,500 in mini-grants have been awarded in 17 states to help with tuberculosis efforts in Native Hawaiian/Pacific Islander, African American, Latinx and Asian American communities.
Additionally, within the last 15 years, 36 million people have been cured of tuberculosis. One of the big reasons for this is because of organizations like the Tuberculosis Elimination Alliance, which reaches out to underrepresented communities like the Asian American and Native Hawaiian/Pacific Islander communities so that they get the help they need.
– Hope Yonehara
Photo: Flickr
https://borgenproject.org/wp-content/uploads/logo.jpg
0
0
Kim Thelwell
https://borgenproject.org/wp-content/uploads/logo.jpg
Kim Thelwell
2023-07-17 01:30:11
2023-07-15 01:48:51
TB Elimination Alliance Serves AAPI Communities