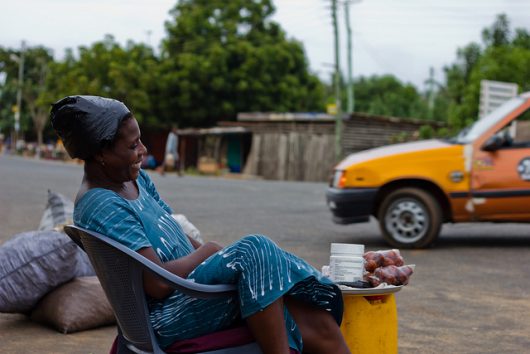 In a monumental accomplishment, Ghana has triumphed in its Millenium Development Goal of cutting poverty within the nation in half. In the 1990s, half the population was subject to living standards below the poverty line, but by 2013 this figure was down to less than a quarter.
The country now gears up for the U.N.'s first Sustainable Development Goal of completely ending poverty in Ghana. With this new goal in mind, Ghana is challenged to address the lagging segment of the population and stimulate growth and greater equality.
Agriculture in Ghana
From 2007 to 2016, Ghana managed to stimulate economic growth at a rate above 7 percent. However, the agricultural industry only grew by 3.5 percent, lagging much behind the economy. In fact, the African Development Bank reported that Ghana's agricultural sector would need to achieve a 7 percent growth in order to initiate poverty reduction.
The reason agriculture is a crucial area of improvement to end poverty in Ghana is that more than half of its population works in this industry. Over 90 percent of employment in rural areas is based in agriculture, and these areas also comprise the poorest of the poor in the entire country.
Opportunities For Development
Fortunately, the means for development stems from the agricultural sector and would significantly contribute to Ghana's growth and overall poverty reduction. The following is a condensed list with strategies and areas of improvement that would help achieve economic growth in the agricultural sector and ultimately push ahead ending poverty in Ghana:
Incorporate mechanization and other technology
Advance beyond rainfed agriculture
Promote security in the land tenure system
Stimulate interest and investment in agriculture
Improve storage and management of post-harvest yields
Make policy that focuses on progressing agriculture beyond subsistence farming
Sustainable Growth and Energy
Ghana faces other challenges in infrastructure that hinder economic growth and poverty alleviation; however, the U.N. Development Program supported Ghana in its transition to greater infrastructure in a sustainable way. Energy, for instance, appears to be one of the key focus areas for infrastructure improvement.
The U.N. provided adaptation and mitigation strategies in Ghana's development policies and programs. Moreover, this cooperation between the U.N. and Ghana also contributed to Ghana's mission to diversify energy sources, greatly incorporate renewable energy and develop more efficient energy.
Secretary General's Sustainable Energy for All Initiative
One such collaborative effort between Ghana and an international organization to secure poverty reduction and economic growth is the Secretary General's Sustainable Energy for All Initiative (SEforALL). SEforALL works to advance energy systems, end energy poverty and promote prosperity. In fact, the three main objectives are as follows:
Provide universal access to up-to-date energy services
Double the global rate of energy efficiency
Double the renewable energy inclusion in the global energy mix
Efforts to End Poverty in Ghana
Ghana has advanced and grown significantly over the past two decades; poverty is cut by more than a half of what it was before the turn of the century. Ghana stands as one of the few countries that achieved the Millennium Development Goal.
Fortunately, there are numerous strategies, focus areas and initiatives occurring today to end poverty in Ghana once and for all.
– Roberto Carlos Ventura
Photo: Flickr
https://borgenproject.org/wp-content/uploads/The_Borgen_Project_Logo_small.jpg
0
0
Borgen Project
https://borgenproject.org/wp-content/uploads/The_Borgen_Project_Logo_small.jpg
Borgen Project
2018-08-26 01:30:43
2019-12-11 12:38:24
Sustainable Solutions To End Poverty in Ghana