Sustainable Agriculture in the Philippines a Model for the Region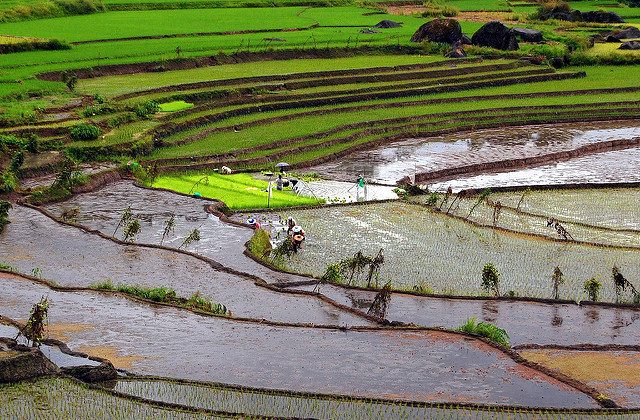 The Asian Food and Agriculture Cooperation Initiative (AFACI) created the Asian Network for Sustainable Organic Farming Technology (ANSOFT) project in 2009. In 2015, sustainable agriculture in the Philippines was recognized out of 11 participating ANSOFT nations with the "Outstanding Country" award.
ANSOFT looks to promote communication networks in terms of organic technology development, both nationally and internationally.  The project produces a database of successful organic farming techniques, pest and soil management, traditional practices and knowledge of natural resources.
Here are more innovative projects underway in the region as the Philippines establishes its reputation as a leader in developing sustainable agriculture:
Empoldering technique bolsters agriculture
Empoldering, a method of reclaiming low-lying land from bodies of water by building up dikes and constructing drainage canals, has proven effective in the Philippines. After the technique was implemented, a 2008 study found that empoldering improved the fish, rice and vegetable production systems through better access to fresh water, as it creates a new upland microenvironment. The microenvironment serves as a seedbed and allows for the integration of fish into the rice crop.  The high-impact method helped increase food availability and employment opportunities in farming, thereby increasing food security for the region.
Pasali Philippines Foundation and "Brain Gain"
Sustainable Agriculture Programs of the Pasali Philippines Foundations are housed under the larger concept called "From Brain Drain to Brain Gain", a strategy to alleviate poverty by investing technologies and skills learned nationally and internationally into local development. The Brain Gain concept focuses on food security, economic sustainability and environmental sustainability through climate change mitigation.
The Pasali Foundation backs sustainable agriculture programs that work toward infrastructure support, capacity building, seed banking and agroforestry, as well as addressing issues of land tenure and seeking the interest of microfinancing institutions.
Philippine Rural Development Project
In 2014, the World Bank approved financing for the Philippine Rural Development Project. The project focuses primarily on farming infrastructure that supports sustainable agriculture in the Philippines, including farm-to-market roads, bridges, greenhouses, fish sanctuaries, solar dryers, and facilities for pre- and post-production and harvest storage.
The project estimates a direct impact for nearly two million farmers and fisherfolk, and indirect impacts for 22 million citizens in the region. Currently in its fourth year, the project expects to achieve major increases in the household incomes of farmers and fisherfolk, as well as small business incomes and product values. The project also partners with the Global Environment Facility, whose focus is on the conservation and protection of selected coastal and marine areas in the region.
As recognized by AFACI and through the implementation of other ambitious initiatives, the Philippines leads the way in setting the standard for sustainable farming practices in Asia. Accordingly, sustainable agriculture in the Philippines may just set the standard for alleviating poverty in Asia as well.
– Jaymie Greenway
Photo: Flickr
https://borgenproject.org/wp-content/uploads/logo.jpg
0
0
Borgen Project
https://borgenproject.org/wp-content/uploads/logo.jpg
Borgen Project
2018-01-14 07:30:30
2019-12-26 17:14:17
Sustainable Agriculture in the Philippines a Model for the Region