Addressing the Need for Sustainable Agriculture in Fiji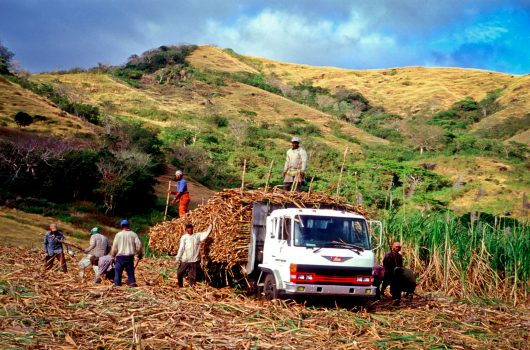 For many, the mention of Fiji, a country located in the South Pacific Ocean, conjures up images of crystal blue waters, white sandy beaches and five star luxury resorts ready to cater to every holiday need. Yet, even tropical paradises are not immune to climate change, and Fiji has experienced increasingly intense and unpredictable weather events such as droughts, floods and cyclones. This has dramatically impacted farmers in Fiji, and there has now been a recognized need for more sustainable agriculture in Fiji.
Sustainable farming practices, rather than aggravating the various effects of climate change, make way for more environmentally friendly practices that increase food security and improve livelihoods. One project that is currently active in Fiji is the Climate Change Adaptation through Sustainable Agricultural Project, which has been funded by the Pacific American Climate Fund and implemented by the Foundation for Rural Integrated Enterprises and Development. This project focuses specifically on incorporating traditional farming practices, and 200 farmers from eight communities have been selected to become involved in this initiative.
Another project implemented by the Organic Matters Foundation, in partnership with a nongovernmental organization called Tei Tei Taveuni, has sought for the implementation of chemical-free farming practices, a more sustainable alternative to chemical-laden cultivation. 160 farmers attended lessons on soil biology and learned about the benefits of switching to organic farming. Instead of using chemicals to fertilize their crops, farmers in this project have started to use locally sourced materials such as seaweed and corals. The transfer and exchange of knowledge was an important aspect within this project, and the knowledge regarding the benefits of chemical free farming has spread to other areas in Fiji.
Recognizing the important role that agriculture plays in Fiji's economy, the Ministry of Agriculture in Fiji, with assistance from the Food and Agriculture of the United Nations, created and published the Fiji 2020 Agriculture Sector Policy Agenda. The aim of this policy is to evolve and modernize Fiji's agricultural sector in a holistic and inclusive approach, with a focus on sustainability. This policy pursues the use of "climate-smart agriculture" as a new way of increasing production, as well as heightening resilience through the use of sustainable agriculture in Fiji. In order to address national and global obstacles in relation to food security and climate change, a new framework must be set, which is argued and outlined in this policy.
As the effects of climate change heighten, adaptive sustainable agriculture in Fiji has been recognized as a crucial measure by various actors, including farmers and their communities, various local and national nongovernmental organizations and the Fiji government. Many understand the importance of the close connections between agriculture, the economy, food security and livelihoods of communities, and its awareness is spreading throughout the country. In addition to the projects mentioned, various other actions are being undertaken that focus on modernizing agricultural practices, which create more resilience for farmers and their communities and contribute further to sustainable agriculture in Fiji.
– Miho Kitamura
Photo: Flickr
https://borgenproject.org/wp-content/uploads/logo.jpg
0
0
Borgen Project
https://borgenproject.org/wp-content/uploads/logo.jpg
Borgen Project
2018-01-22 07:30:07
2019-11-11 06:12:48
Addressing the Need for Sustainable Agriculture in Fiji