Socio-economic Equity in Brazil and Chile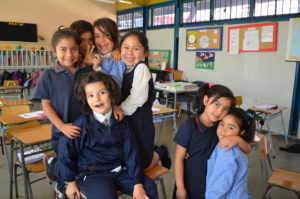 Latin America has the worst socio-economic equity gap in the world. The average Gini Index (percentile measurement of income distribution) is 41, which is a 10 point difference in comparison to the Organization for Economic Cooperation and Development (OECD) average. The Gini Index is like golf in a sense—the lower the score, the better the distribution. Although this region has a high Gini rate, Brazil and Chile have shown real promise in leading the rest of the region in socio-economic equity.
Chile: Counter-cyclical Spending and Education Investments
The Bachelet Administration effectively implemented a counter-cyclical spending policy that helped safeguard against a total economic collapse during the 2008 global crisis. Essentially, social spending reduced and taxes increased during a boom period, allowing Chile to save approximately $18.1 billion with the Economic and Social Stability Fund. During the global recession, Chile increased its social spending and lowered taxes creating demands for goods. When properly executed, counter-cyclical spending more evenly distributes resources without causing stagnation or inflation.
Education is essential to decreasing inequality between low-skilled workers and high-skilled workers; it provides an endowment of marketable skills. Generally speaking, better skills receive better pay. Chile spends 1.2 percent of its total GDP on Early Childhood Education and Care programs.
 In 2017, nearly 33 percent of 19 to 20-year-old Chileans enrolled in tertiary education and 25 percent finished with a four-year degree. Systemic education reform made tertiary education 100 percent free for low-income households. As a result, students receiving government loans and scholarships increased from 17 percent in 2007 to 58 percent just 10 years later.
Chileans have benefited from a reformed education system in a tangible way. Individuals with vocational degrees earn 40 percent more than secondary educated workers. Those with a bachelor's degree earn upwards of 100 percent, and doctoral graduates earn 4.7 times the average of upper secondary educated workers.
Universal education invests in resource mobility; however, this is only possible if leaders prioritize the fundamental needs of those living in extreme poverty. Brazil, through conditional cash transfer programs, directly addresses the imbalance of socio-economic equity by providing those needs.
Brazil: Conditional Cash Transfers
Non-contributory social protection or social assistance works specifically for those in vulnerable living situations. These programs, funded through a general budget and taxation of public companies, provide monetary assistance to low-income households with children.
Of more than 30 active conditional cash transfer (CCT) programs in Latin America, Bolsa Familia (PBF) is the most prevalent. PBF reduced poverty in Brazil by 28 percent during its first 13 years and assisted over 11 million families a year.
The goal of PBF (and CCTs) is to end cyclical systemic poverty by investing in human development. Families receive assistance after they agree to social responsibilities like taking their children to health care providers and attending school.
Since its inception in 2003, Bolsa Familia integrated four other CCT programs. Today it reaches 46 million people, 54 percent of whom are women. The Economic Commission for Latin America and the Caribbean estimates that out of 133.5 million people living, 30.2 million households receive a conditional cash transfer.
There is no denying the obvious progression in addressing the imbalance in socio-economic equity in Brazil and Chile; however, much of Latin America still lives in poverty. The long term solution for socio-economic equity is to integrate non-discriminatory policies into law.
Universal Social Protection
The idea of a basic level of income is not new; the concept received debate during the early 19th century in the U.K. Meanwhile, some proposed it in the U.S. in the 70s and then again in 2019 with Andrew Yang's promise to give $1,000 to every U.S. citizen every month.
Creating a "care pillar" would not only meet the urgent needs of those who need it most but would also promote human development for all. A stronger care system by function distributes necessary provisions of public goods and services, creating socio-economic equity. Unconditional, universal payment to the state inhabitants allows them to meet their basic needs.
The Universal Social Protection in Latin America and the Caribbean states that "by freeing people of the more serious consequences of material dependency, a basic income could lead to a rearrangement of social hierarchies, increase bargaining power of women…and [others facing] discrimination…and open up spaces for greater autonomy…for all people."
In other words, bettering the linkage between the components of social protection and coverage, while eliminating discriminatory mechanisms, guarantees access to a decent life.
Brazil and Chile have made exemplary progress in the battle for socio-economic equity, but like the rest of Latin America, they have a long way to go before income distribution is fair and balanced. Breaking the cycle of poverty begins with policy. It is up to the countries that have disposable funds to implement policy change and reform. Once those countries reach socio-economic equity, they will have the resources to help neighboring countries reach the same goal.
– Marissa Taylor
Photo: Flickr
https://borgenproject.org/wp-content/uploads/logo.jpg
0
0
Lynsey Alexander
https://borgenproject.org/wp-content/uploads/logo.jpg
Lynsey Alexander
2020-04-01 07:30:43
2020-03-30 13:32:39
Socio-economic Equity in Brazil and Chile