Slow Fashion And Guatemalan Textile Production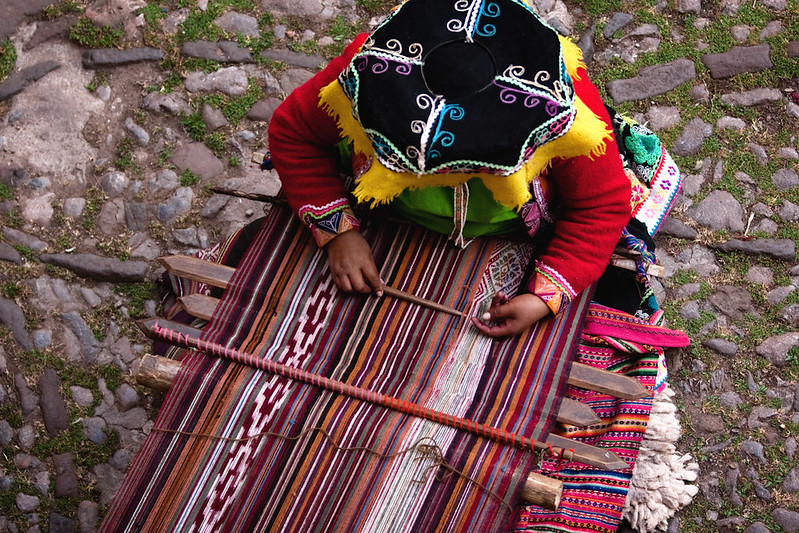 Global interest in slow fashion and Guatemalan textile production often leads to exploitation of the designs and the profits. The weavers themselves often do not receive a fair wage for their work, which is incredibly time and labor-consuming. Fortunately, recent efforts are pushing for collaborations to protect these traditions and the indigenous weavers while still sharing their extraordinary work with the world.
The Guatemalan Textile Production Tradition
Mayan mothers and grandmothers teach women in Guatemala how to work with cotton from a very young age. They learn to use a loom and to create traditional natural dyes from ingredients such as avocado, banana, lemon and cochineal, a local insect. The hand-spun cotton and loom that the indigenous women use represents the very essence of their cultural practices. The result of this process is beautiful and colorful garments, bags and accessories that tourists have long purchased as souvenirs. People often purchase the goods and mark them up for resale, leaving the artisan behind.
An awareness of concerns about exploitation and cultural appropriation, along with movements of slow fashion has led to efforts to protect, preserve and appropriately collaborate and share traditional Guatemalan textile weaving.
Slow Fashion and Traditional Guatemalan Textile Production
A short documentary called "Artisans Guatemaya" sheds light on the complexities of the relationship between the 1 million Guatemalan artisans who need to have their opportunities and rights protected as well as the perspective of fashion industry leaders.  Mutual goals may include a vision of sustainability, collaboration, preservation of culture, knowledge-sharing and a mutually profitable model of cultural tourism which makes tradition and history economically viable today.  In addressing the ethics of this dynamic, it is important to move away from cultural appropriation toward cultural appreciation. The women face poverty and need to make a living. Therefore, people should place attention on these women's economic and social development.
Small collectives of indigenous women join forces to protect their rights. Pablo Martinez of Etnica Travel Eco Tours says there are occasions when outsiders offer the women help that is inappropriate and therefore not useful. He emphasizes the necessity of listening carefully to the needs and wishes of local, artisan women and including them in the outcome of the exchanges. Through co-creation efforts, one should not lose sight of the artistry of the women.
A New Protected Artisanal Market in Guatemala
Slow fashion and traditional Guatemalan textile production also led to a specialized and protected artisanal market in Guatemala. Ethical Fashion Guatemala protects the rights of artisans and prevents high markup resale of goods purchased and then resold. James Dillon and Kara Goebel, both from the U.S., founded Ethical Fashion Guatemala. They bring the technology platform to provide a global market to local artisans. The pair also led the battle against 64,000 Etsy sellers for copyright infringement of Guatemalan patterns. This legal action was highly effective in curbing the blatant stealing of designs.
Ethical Fashion Guatemala claims transparency. It states that Guatemalan artisans receive 80 percent of the money that people spend on textile goods on its site and that all other sites that make such claims are imitations. Customers can purchase traditionally woven goods and can also arrange to have a tourism experience and connect with the local weavers. Many local artisans create very high-quality and high-fashion handmade goods. People especially know them for purses and bags.
The Consequences of Fast Fashion in Guatemala
One side effect of fast fashion that threatens traditional practices is the occurrence of pacas. Pacas are small, second-hand clothing shops that some indigenous women run as a small business. Indigenous women chose to run these as opposed to weaving as a matter of convenience. Weaving traditional textiles is time and labor-intensive, often with a small payout. It can take weeks or a full month to weave a traditional garment.  Resale of used clothes arriving from the U.S., on the other hand, is quick and easy. There is a concern that this model could be a threat to traditional practices as fewer women will pass on the ways of dying and weaving to their daughters. Pacas are one of the primary reasons that indigenous women have stopped wearing their traditional clothing. Guatemalan factories still churn mass-produced textiles (fast fashion), known as maquilas. This type of industry is highly competitive with China and continues to boom, despite a movement for more sustainable products. Ten to 20 years ago, the spotlight revealed the labor violations in these maquilas. There are still some labor violations, but paople have been paying much less attention to these factories in recent years.
In summary of slow fashion and traditional Guatemalan textile production issues, artisans can protect their heritage and legacy, and craft in collaboration with each other and with concerned and interested outside partners. There will always remain the vulnerability of exploitation, but awareness, legal action and strong relationships can minimize these challenges.
– Susan Niz
Photo: Flickr
https://borgenproject.org/wp-content/uploads/logo.jpg
0
0
Lynsey Alexander
https://borgenproject.org/wp-content/uploads/logo.jpg
Lynsey Alexander
2019-11-10 03:30:18
2020-01-18 13:55:50
Slow Fashion And Guatemalan Textile Production