The Situation Regarding Child Soldiers in Iraq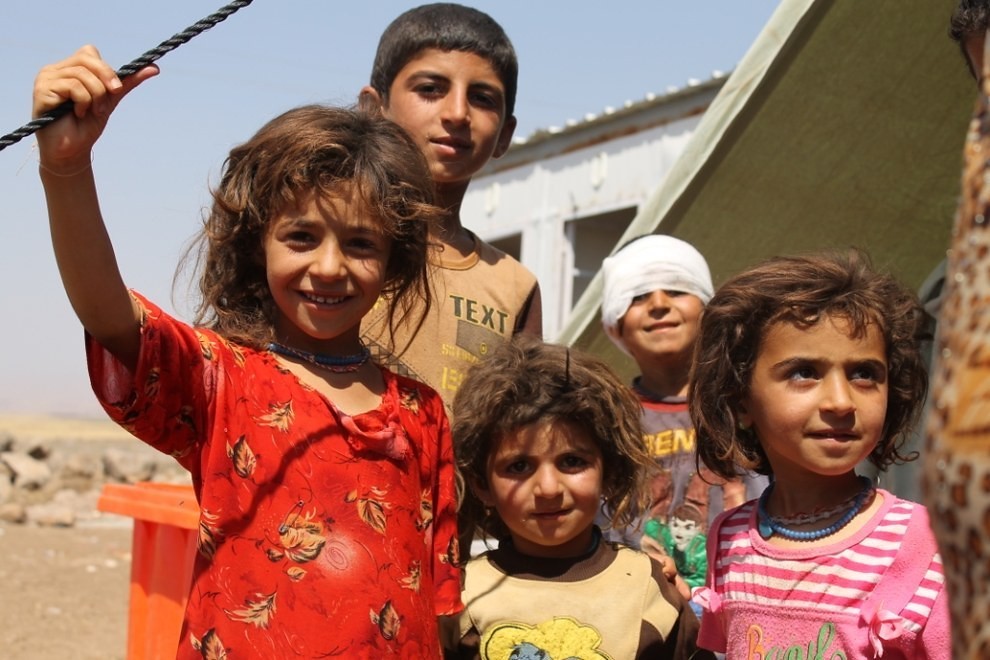 The use of child soldiers in Iraq is pervasive, with the practice going as far back as 1975, manifested in Saddam Hussein's Ba'ath party initiative that strove to create a paramilitary organization for children as young as 14 years of age. Thousands of child soldiers volunteered by 1988, many of them wishing to fight against Iran between 1983 and 1985. Drafting became relatively unpopular due to labor shortages, a ramification of child deaths. As ISIS paraded through countries like Iraq and Syria in the coming years, it also learned of the idea of recruiting children to become soldiers.
The Nearer Past
The 1969 Military Service Act, coupled with resolutions that the Revolutionary Command Council (RCC) engendered, determined that the pickings for conscription during times of war were up to the RCC's discretion. According to Human Rights Watch, conscripting children younger than the age of 15 is a war crime and the age that constitutes a violation under international law is 18. Human Rights Watch has censured the People's Defense Forces (HPG), operating as the armed wing of the Kurdistan Workers' Party, also known as PKK, and the Shingal Resistance Units (YBS), also with ties to PKK, following an investigation uncovering 29 documented cases of child conscription.
"The PKK should categorically denounce the recruitment and use of child soldiers and commanders in affiliated armed groups should know that the recruitment and use of children younger than 15 constitute war crimes," says Zama Coursen-Neff, children's rights director at Human Rights Watch.
The Influence of Poverty
COVID-19 briefly exacerbated poverty in Iraq, with children and adolescents in Iraq bearing much of the burden. An additional 4.5 million Iraqis who moved below the poverty line increased the percentage of impoverished people in Iraq by 11.7% from the 20% mark in 2018. However, the 20% statistic has since fallen to 24.8% due to the governmental decision to attenuate health regulations, somewhat stimulating the economy.
Eliminating child soldiers in Iraq and beyond requires, among other things, a focus on ending poverty. NGOs like the International Rescue Committee (IRC) and the Iraq Child Rights Network are taking a crucial step in the fight by succoring Iraqi and Syrian refugees and empowering them to rebuild their lives. These NGOs also champion healthy childhood development by working in tandem with official bodies like UNICEF to enable laws that bode well for children in Iraq respectively.
Many factors, including poverty, abduction, threat, manipulation, survival and protection, compel children to prematurely engage or aid armed combatants, although poverty and manipulation tend to be especially pervasive. A suffusing of refugee camps, an answer to conflict, especially explosive ones, presents an abundance of children who are devoid of proper guidance through loss of family or legal guardianship, leaving them at mercy of manipulative and despotic fighters to fill the void. Whatever the reasons, child involvement in armed conflict is a solemn breach of child rights and international humanitarian law.
A Ramification of the Past
The power vacuum that resulted from the deposition of Saddam Hussein left many combatants struggling for power in the region, eventually giving birth to ISIS, a Sunni-insurgency from Iraq, which caused devastation that the world came to know. As ISIS annexed parts of Iraq and Syria and declared a caliphate in 2014, the group began to envision a lasting caliphate that could not and would not last, except with an incoming generation of properly indoctrinated subjects. The recent conquests of ISIS, which displaced approximately 700,000 students from proper education, left the terrorist group with a sea of students susceptible to recruitment.
The Child Soldier's Prevention Act of 2008
Remedying the issue of child soldiers in Iraq and elsewhere is perplexing. Military action risks both a moral dilemma and the potential for intra-conflict for any given military that may otherwise intervene. One can attribute some progress in the battle against the conscription of child soldiers in Iraq to the enactment of the Child Soldier's Prevention Act of 2008, which has employed the method of engagement of publicly identifying countries involved with child soldiers and restricting security assistance to such countries under the condition that the call to cease child involvement in war goes unheeded.
Prohibition of licenses for direct commercial sales of military paraphernalia, foreign military financing, international military schooling, peacekeeping operations and superfluous military equipment have undergone implementation in order to target countries, albeit said countries may receive a full or partial waiver under the condition that the response to active restrictions brings forth a favorable response. Although Iraq remains a designated country under CSPA ruling, it received a full waiver of restrictions from the Trump administration in 2020, indicating that the country took steps to demobilize, reintegrate and rehabilitate child soldiers.
Geneva Call
Although states largely experience penalties for child conscription, non-state organizations are the usual perpetrators. The restrictions push these states to fight against the issue at home, though this has not kept non-state actors out of earshot of organizations like Geneva Call, a nongovernmental organization (NGO) that began in March 2000. Geneva Call tasks itself with enlightening conflict actors on their responsibility as soldiers and informing an inflicted population of their rights.
The HPG and YBS came under close scrutiny by Geneva Call following a Human Rights Watch report noting their involvement in recruiting child soldiers in Iraq. In November 2016, 31 leaders, commanders and advisers of armed movements from several countries, including Iraq, partook in workshops and discussions regarding child protection in armed conflict. The opportunity aimed to educate groups on international norms while seeking pragmatic means of achieving and maintaining adherence to these guidelines.
Using children for military gain branches out of poverty, itself a progenitor of war. Legislation, advocation, education and its complements are not without merit, but eradicating the use of child soldiers once and for all is only possible if countries commit to reducing abject poverty within their borders.
– Mohamed Makalou
Photo: Flickr
https://borgenproject.org/wp-content/uploads/logo.jpg
0
0
Jennifer Philipp
https://borgenproject.org/wp-content/uploads/logo.jpg
Jennifer Philipp
2021-09-10 11:14:30
2021-09-13 02:25:17
The Situation Regarding Child Soldiers in Iraq