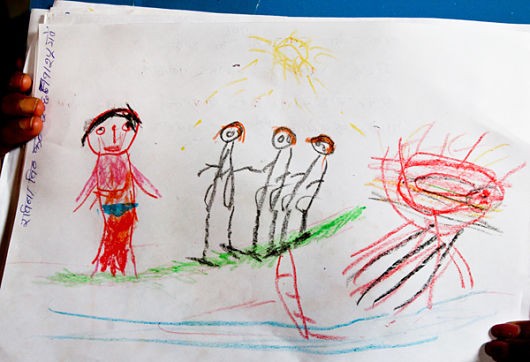 The practice of art has the power to help young children who have faced emotional trauma and devastating tragedies. In countries where severe poverty is persistent, children experience life events that can delay their development and affect their mental health.
Save the Children's HEART, Healing and Education through the Arts, program has positively impacted the lives of many young children. The concept is that art forms such as drawing, painting, music, drama, and dance can help children express their emotions and experiences in order to improve their emotional well-being and ability to learn.
The program exists in Haiti, Malawi, Mozambique, and Nepal. It has reached thousands of preschoolers and school children. It is often incorporated into existing after school child development programs.
Children in these regions of the world experience stress from their life circumstances of poverty and traumatic events. The following are the stories of three children who have benefited from the HEART Project.
Roster—This young girl from Malawi was not able to speak for the first four years of her life. She could not even say one word. In the Heart Project at her preschool, she was able to participate in drama and play activities which finally allowed her to say her first word, "mwa-na" (translates to 'baby' in English), and now talks constantly!
Enock—He grew up in a family without his father. Enock and his siblings often did not have enough food to eat although their mother worked very hard to support them. He drew pictures of his family and how he is responsible for caring for his younger brothers. The caregivers in the Heart Project were able to talk with his family and he could express the stresses he felt in his family through art.
Raveena—She experienced the accidental death of her father at a very young age. She had a very special bond with him being the youngest girl of the family. After this tragedy, Raveena was withdrawn from school and no longer played with the other children. Raveena drew with crayons depicting scenes of the cremation of her father. The counselors at the Early Childhood Development center were then able to understand Raveena's emotions and support her. Soon after, Raveena began drawing happy pictures of her friends and siblings, instead of the tragic scenes of her father's death.
The video of this Save the Children program portrays the stories of some of these young children and how art allowed them to work through feelings that they could not express verbally.
– Iliana Lang
Sources: Save the Children, Save the Children, YouTube
Photo: Save the Children
https://borgenproject.org/wp-content/uploads/The_Borgen_Project_Logo_small.jpg
0
0
Clint Borgen
https://borgenproject.org/wp-content/uploads/The_Borgen_Project_Logo_small.jpg
Clint Borgen
2015-08-07 01:30:19
2020-02-28 08:43:17
Save the Children: Healing Through Art