6 Facts About Refugees in Central African Republic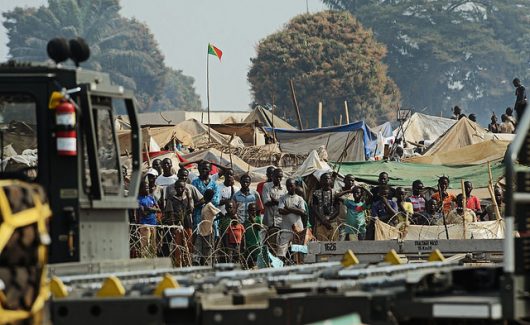 The recent internal conflict in Central African Republic has prompted many of its citizens to flee to neighboring nations or safer places within the country. After settling into host communities, UNHCR (the United Nations refugee agency) has been able to provide assistance to the refugees and help them acclimate to new areas.
Here are six facts that you should know about refugees in the Central African Republic:
Nearly 418,000 refugees in the Central African Republic are internally displaced because of the current conflict in the country. However, even prior to these issues many neighboring cities and countries were already hosting refugees from the Central African Republic. The new influx of refugees has prompted new response plans to accommodate these people, such as the CAR Regional Refugee Response Plan.
Including those who are internally displaced, there are approximately 2.7 million people who are in need of humanitarian assistance, as well as 2.4 million children who are affected by the crisis.
Almost one million citizens have fled their homes to seek refuge in local mosques and churches, or as far as Cameroon, Chad and the Democratic Republic of the Congo. After these journeys, many arrive having endured brutal attacks from heavily armed fighters along the way and are suffering from extreme malnutrition.
The majority of these refugees are able to successfully settle into host villages or refugee camps. Here, UNHCR and partners provide basic social services and help the refugees to integrate into their new homes.
UNHCR has received $24.7 million in aid to assist refugees in the Central African Republic. However, this is only 11 percent of the original $225.5 million that the organization appealed for. Foreign aid continues to help refugees become comfortable in their new surroundings, providing for basic needs and protection while they acclimatize.
However, the basic needs of the refugees in the Central African Republic surpass the amount of aid that has been provided. More than 20 percent of the refugees arriving in camps are vulnerable with specific needs and health issues, such as malaria and malnutrition. While the UNHCR teams work to provide things such as emergency supplies and medical care, there is not enough funding to provide optimal assistance.
While UNHCR cannot provide the amount of assistance necessary, it has still been successful at helping refugees to acclimate to their host communities. As the internal conflict in the Central African Republic continues, foreign aid will continue to assist those who turn to host communities for refuge.
– Amanda Panella
Photo: Flickr
https://borgenproject.org/wp-content/uploads/The_Borgen_Project_Logo_small.jpg
0
0
Borgen Project
https://borgenproject.org/wp-content/uploads/The_Borgen_Project_Logo_small.jpg
Borgen Project
2016-08-13 01:30:11
2020-06-16 12:01:51
6 Facts About Refugees in Central African Republic