Bangladeshi Parenting App ToguMogu Wins UNFPA Innovation Award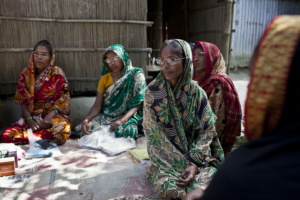 On August 1, 2022, the United Nations Population Fund (UNFPA) announced 10 winners of its Joint Innovation Challenge 2022 called "Positioning to Scale: Innovations to Empower Women and Girls." Recognizing the lost progress in women's rights because of the COVID-19 pandemic, the UNFPA launched the challenge in March 2022 to support unique, affordable and sustainable initiatives that work toward advancing gender equality and women's rights. One of the winners is ToguMogu, a maternity, parenting and family health platform — the "first parenting app" in Bangladesh.
The Competition Details
UNFPA partnered with the World Intellectual Property Organization, the International Telecommunication Union and the International Trade Centre to fund the challenge and support the winners' initiatives. After receiving 300 applications from 61 nations across the globe, UNFPA picked 20 finalists who pitched their ideas to a panel of experts.
From there, the panel selected 10 winners who will each receive an investment of $60,000 and a nine-month contract with UNFPA. Alongside ToguMogu, the winners come from diverse spread of countries ranging from Mongolia to Rwanda. Some of the other innovative projects include a diagnostic system for preeclampsia and a board game that educates its players about sexual and reproductive health.
What is ToguMogu?
Founded in 2016 but registered in 2017, the ToguMogu company aimed to create an all-encompassing platform to support parents from pregnancy till their child turns 5 years old. The platform offers product recommendations for newborns, educational content for first-time parents, a doctor database and recommendation services for pre-schools, daycares and after-school programs. In 2019, the company "fully launched [its] website with different services," The Daily Star reported. The company launched the ToguMogu parenting app in 2020 to accompany its services.
For context, Bangladesh has a relatively high infant mortality rate at 24 deaths per 1,000 live births, as the World Bank estimated in 2020. A study that Jyoti Vijay led, which was published in 2019, found that infant mortality and socioeconomic status have links with higher mortality rates observed in families from a lower-income background.
In addition, a study that Sanjit Roy led, which was published in 2018, found that the risk of early neonatal mortality — the death of an infant before seven days old — increases when the mother has not received an education. Therefore, there is a great necessity for platforms like the ToguMogu app, which offers parents easy access to educational resources and information to better care for their infants. ToguMogu's website states that its goal is to provide a one-stop platform for parenting, especially for the large population of new and young parents in Bangladesh.
ToguMogu Founding
The ToguMogu company was born after co-founder Dr. Nasimul Islam Maruf and his wife became new parents in 2016 and felt lost looking for support during their pregnancy and parenting journey, especially when it came to finding educational content in Bengali, the national language of Bangladesh.
CEO and co-founder Nazmul Arefin Momel told Future Startup that the company initially started as a content website, before gradually expanding to e-commerce and product recommendation services as well as partnering with third-party services to create the doctor database, for instance.
After the company launched the ToguMogu parenting app in September 2020, a new version update came out in April 2021. As of July 2022, the app had more than 100,000 downloads and registered users.
Other Successes
The ToguMogu company stood as one of six winners of the 2022 STITCH for RMG Global Innovation Challenge, which the H&M Foundation launched in partnership with The Asia Foundation and the Bangladesh Rural Advancement Committee (BRAC). The challenge aimed to support female workers in the ready-made garment industry in Bangladesh, a vulnerable population that often faces poverty and unsafe work conditions. ToguMogu's work in the garment industry is to increase job retention after pregnancy and motherhood and ensure those female workers have the resources needed to make family care easier. ToguMogu won a $30,000 grant and will pilot its project in specific factories.
Future for the Joint Innovation Challenge
UNFPA and its partners will provide a virtual boot camp, mentorship and training until December 2022 to all of the winners. The training and boot camp will touch on project design planning, including market entry and deployment, to facilitate the implementation of these initiatives by March 2023. With the support and funding from the U.N., projects such as ToguMogu can have a tangible impact on women's health and rights.
– Ramona Mukherji
Photo: Flickr
https://borgenproject.org/wp-content/uploads/logo.jpg
0
0
Saiesha
https://borgenproject.org/wp-content/uploads/logo.jpg
Saiesha
2022-09-30 07:30:53
2022-09-27 07:32:26
Bangladeshi Parenting App ToguMogu Wins UNFPA Innovation Award