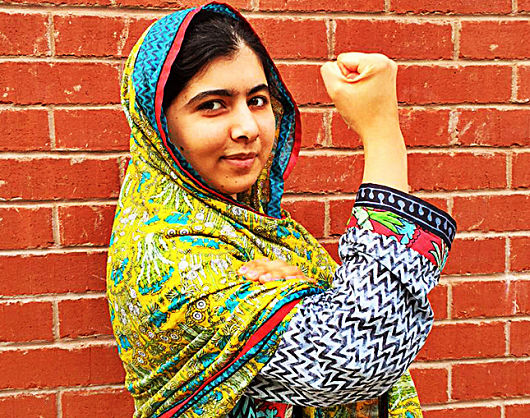 "We Can Do It!" Rosie the Riveter's confident call to action and iconic pose continues to empower women. The ONE campaign, a poverty advocacy group, has adopted this traditional pose to fight for equality in a new way. Grinning girls bare their biceps appear across the site, using the hashtag #WithStrongGirls to demonstrate support for the women in poverty. Nobel Peace Prize winner Malala Yousafzai joins the ranks of women and girls posting these "strengthies" worldwide. The social media campaign works alongside a petition calling upon world leaders to prioritize the advancement of women in efforts to end global poverty.
As the campaign explains, "poverty is sexist." ONE's 2015 data report explains the significant disparity in quality of life based on gender, citing maternal morality, domestic violence, gaps in wages and education and poor representation in government. These are among the many disadvantages women, particularly women in poverty, face. Each day, 39,000 girls become child brides, 1 in every 217 childbirths leads to the mother's death in least developed countries (LDCs) and 45 percent of worldwide maternal mortality occurs within the world's poorest 13 percent of women living in LDCs. Life in extreme poverty is horrifying. For women, these horrors multiply.
While poverty affects women more severely than men, relief for women does not exclude men. Efforts in health and education will allow progress not only for women and girls, but also for the broader movement to end global poverty. As the report explains, educating the world's poor, including often-excluded women, could reduce extreme poverty by 12 percent, and increasing efforts for the health of women and children "could yield a nine times return in economic and social benefits." Introducing educated women to the workforce and reducing the current 10-30 percent wage gap in many poor nations can increase agricultural yield and create more consumers and participating members of society. According to ONE's report, "Over the coming decade 1 billion women are poised to enter the global economy." This kind of growth does not merely benefit women; the broader economy will see vast advancements.
These significant improvements are far from unattainable; ONE is not the only campaign to realize that the dialogue about extreme poverty needs to focus on women. The social media campaign and report anticipate a new set of Sustainable Development Goals to replace the Millennial Development Goals. The United Nations announced in March 2015 that women must be a focus of humanitarian efforts. The UN called for a focus on gender-based statistics, citing a need to better incorporate gender inequality into economic discussion.
The World Bank echoes this sentiment. A $65 million loan to Zambia's Girls' Educations and Women's Empowerment and Livelihoods Project will aid 75,000 women and 14,000 adolescent girls in pursuing secondary education and gaining economic independence. It will also aid governmental systems to further these efforts. With fewer than 10 percent of poor rural girls in Africa currently finishing secondary school, such programs hope to improve both the quality of life of girls who otherwise would not have access to education, and also the broader infrastructures responsible.
By extending this issue from the realm of non-profits and governmental organizations to Facebook and Twitter, ONE is helping to catch the attention of people worldwide. Isolating issues of sexism in health and education is impossible; women in poverty must be a primary focus. Likewise, poverty is not a conversation exclusive to conference rooms and offices. Poverty is sexist, but merely by including women worldwide in the dialogue, progress towards equality and the end of global poverty is underway. By standing #WithStrongGirls, women (and men) can also help stand for those who do not yet have the opportunity to do so for themselves.
– Zoey Dorman
Sources: Poverty Is Sexist Report, ONE, World Bank, UN Women
Photo: Brit+Co
https://borgenproject.org/wp-content/uploads/The_Borgen_Project_Logo_small.jpg
0
0
Borgen Project
https://borgenproject.org/wp-content/uploads/The_Borgen_Project_Logo_small.jpg
Borgen Project
2015-06-13 08:00:38
2020-07-17 00:47:49
The ONE Campaign Explains "Poverty is Sexist"