Poverty in Johannesburg, South Africa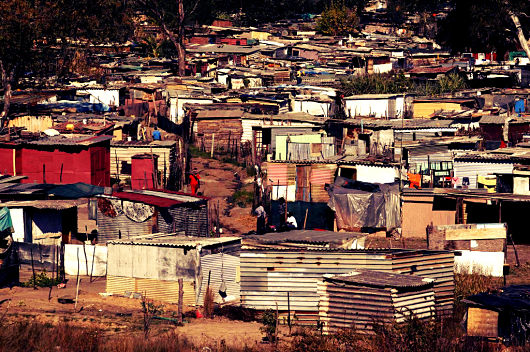 As with many of South Africa's social ills, poverty in Johannesburg is rooted in the legacy of apartheid. But decades before the downfall of apartheid, seismic shifts in the South African economy ensured that poverty will remain a pressing concern in Johannesburg for years to come. Facing unemployment of Great Depression levels, Johannesburg's poor blame immigrants instead of apartheid for their enduring misery.
Until 1994, the apartheid system was the defining socioeconomic force in South African life. Termed "separate development" by its apologists, apartheid sought to segregate South Africa's four principal racial groups—blacks (native Africans), whites, coloreds (of mixed black and white descent) and Indians—in all domains of public and private life. Though the governments that enforced apartheid—which were elected exclusively by white voters—characterized it as a policy of "good neighborliness" between discrete groups, the system extended rights and privileges to whites that no other group could access.
In Johannesburg, the apartheid system entailed the division of the metropolitan area into eleven local authorities—seven for whites, four for blacks. Given the disadvantaged position of blacks in apartheid-era South Africa, local authorities for blacks could afford annual spending of 100 rand per capita, while local authorities for whites boasted annual spending of 600 rand per capita. These sorts of systemic inequalities relegated most blacks in Johannesburg to atrocious levels of poverty throughout the apartheid era.
Though the apartheid system set the stage for contemporary poverty in the city, other factors contribute the prevalence of poverty in Johannesburg today. Economic forces originating in the apartheid era and continuing today play a significant role. During the late 20th century, the South African economy grew at a sluggish pace: GDP growth averaged 1.6 percent between 1980 and 1995, a disappointing pace for a developing nation.
As a result, population growth has vastly outpaced job creation. This sluggish growth coincided with the decline of manufacturing industries in and around Johannesburg, leaving semiskilled and unskilled workers with dwindling employment prospects. These twin forces have raised unemployment to 30 percent in Johannesburg and 25 percent nationwide. As under apartheid, blacks suffer more than any other race group from these phenomena: 72 percent of Johannesburg's poor are black, according to city authorities.
Faced with unemployment and a legacy of discrimination, the poor of Johannesburg often vent their frustration at a more tangible scapegoat: immigrants. Accused of stealing jobs from native South Africans, both legal and illegal immigrants are the targets of riots by poor citizens in the country's largest cities. Illegal immigrants face additional persecution for abusing social services—"allocated on the basis of legal populations," according to the Johannesburg government— that would otherwise benefit the native South Africans among Johannesburg's poor.
Though the deleterious effects of immigration on South Africa are disputed, poverty in Johannesburg remains grim and unabating. Rooted in mass unemployment and historic discrimination, poverty will continue to wrack Johannesburg in the coming years.
– Leo Zucker
Sources: University of Johannesburg, City of Johannesburg, Environment and Urbanization, CNN
Photo: The Record
https://borgenproject.org/wp-content/uploads/logo.jpg
0
0
Borgen Project
https://borgenproject.org/wp-content/uploads/logo.jpg
Borgen Project
2015-06-13 12:00:20
2020-07-17 00:45:36
Poverty in Johannesburg, South Africa