Objective: Raise $500/

£400

or more during the course of your time with The Borgen Project.
When done correctly, fundraising letters are a quick way to raise money. People who raise the most typically do the following:
The majority of team members who raise over $1,000 send 40 or more letters.
Send follow-up emails with a link to borgenproject.org (those who view the website tend to be far more engaged).
Follow-up with 10 people in person or via phone.
You will need to write a minimum of 15 fundraising letters and send them to your potential donors by email or regular mail.
Most team members find that their letters, when done correctly, raise the majority of their $500/£400 target. To succeed, you will need to consider who to reach out to and the most appropriate way to contact each potential donor. For example, your brother never checks his emails? Would it, therefore, be better to send him a letter? Likewise, your Aunt receives hundreds of emails a day, is yours going to stand out from the crowd, or do you need to mail her a letter?
Step 1. The Ask!
People don't give unless they're asked.  This is why your ask is so important and why everyone involved with The Borgen Project participates in sending fundraising letters.  Reach out to people you know who you think will want to support the cause.
Ensure that you do not share incorrect information with your donors. Watch the videos below, depending on your location, to best understand how the funds raised will be used.
UK team members:
Step 2. Create a List of Potential Donors.
Whether you choose to mail letters or send emails, HQ will need a list of your potential donors. This list will be used to ensure that funds received are credited to your fundraising campaign and will not be sold or shared with third parties. Potential donors who do not make a donation will not be contacted again. 
Your list should contain a minimum of 15 people that you know personally: friends, family, classmates, coworkers, etc. Donors will receive a confirmation email for tax purposes and potential follow-up on how their donation contributed to the cause. 
From experience, we've come to see that mailing letters to businesses and organizations without a point of contact or person you personally know will likely result in the letter either not getting to the right person or the business not even being notified of your letter. If you would like to reach out to businesses as another fundraising strategy, you are welcome to do so while completing the rest of your 25 hours worth of fundraising. We recommend calling businesses instead and talking to someone about giving over the phone.
1. Click on the "Potential Donors List Template" button below to make a copy of our Google Sheets document which you will fill out. Be sure to add your potential donor's full name (first and last), email or zip code (zip codes for those who will be receiving your letter in the mail and the email address for those receiving your letter via email), your name, email address and title to all rows that include a potential donor. Your list should contain a minimum of 15 people that you know personally (rows# 2-16).
If you do not have a Gmail account, you can link your email to Google so you can have your own Google Drive access. Scroll to the bottom for instructions on how to.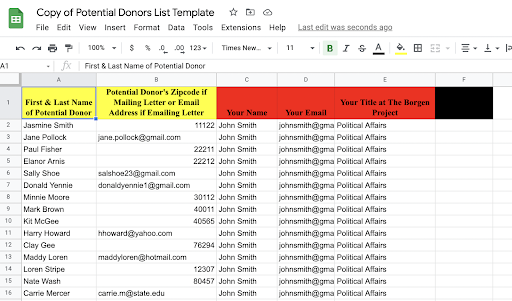 2. After you have filled out a minimum of 15 people (rows #2-16), click file → email → email this file → and send to [email protected] and your manager.  Please leave the spreadsheet as a PDF and add your manager's email.  Please DO NOT share it with us. *Note, if you update the file in the future, you will need to email the list again.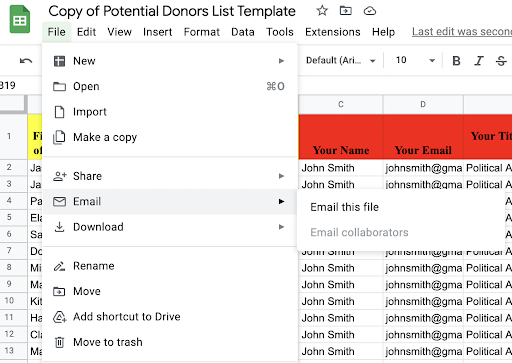 How to link your personal email to a Google account so you can access Drive. You only need to do this if you do not have any access to Google Drive at all.
Step 3. Create your Advocate Flier.
This is a fun way to engage people in what you are doing, and Grandmas love them! After you have added your photo and info to the template below, print out enough copies to send with your regular letters, and/or copy and paste it or send it as an attachment with your email.
Step 4.
Write your fundraising letters.
Use the letter template below, but do personalize them. Your email/letter is far more likely to be read if the opening lines are specific to the reader. Something as simple as, 'How was your holiday?' does the trick. If you'd like to customize the main body of text, please read Tips for Customizing Fundraising Letters. Make sure to keep the letterhead and formatting the same and ensure that any statements you make about The Borgen Project and donations are correct. If you are unsure, please ask your manager to review your letter prior to sending it.
Be sure that for:
Regular mail, you take a photo of your completed letters and add a copy to your tracker.
Emails, you take a screenshot of your sent items folder, showing the emails you have sent, and paste a copy into your tracker.
Step 5. You're Ready to Send!
Take a moment to review all of the steps and ensure that your letters are as professional as possible. Remember, you are representing a professional organization, so your letters need to reflect that. Fundraising letters are a great way to achieve your fundraising goal if done correctly.
Fundraising Updates
Donor Relations will send you an update on your fundraising progress when you receive donations made on your behalf. If you would like to add potential donors to your potential donor list throughout your internship, email the updated list to [email protected]. If you receive a donation from someone who is not on your potential donor list, be sure to let [email protected] know. The Donor Relations Team provides your manager with weekly updates on your fundraising results.
Feel free to contact [email protected] with questions. Thank you for your hard work!
Additional Fundraising Resources:
"People who ask confidently get more than those who are hesitant and uncertain. When you've figured out what you want to ask for, do it with certainty, boldness and confidence. Don't be shy or feel intimidated by the experience. You may face some unexpected criticism, but be prepared for it with confidence."
– Jack Canfield
Most Raised 
Lily Clausen – $5,802/4703
Anna Zawistowski – $5,574/4518
Rebecca Lytle – $5,270/4271
Sophia Wanyonyi – $5,094/£4129
Julia Torres – $4,270/£3461
Katey Reiff – $4,250/3445
Melina Stavropoulos – $4,225/£3424
Jacob Boehm – $3,782/£3065
Taylor Larson – $3,355/£2719
Terra Johns – $3,006/£2436
Alexandra Black – $2,778/£2252
Elizabeth Dassow – $2,765/£2241
Charles Wiener – $2,710/£2197
Jasmine Zhu – $2,707/£2194
Anita Durairaj – $2,670/£2164
Aansh Raiyan – $2,705/£2192
Grace Nicholas – $2,575/£2087
Morgan Harden – $2,485/£2014
Lucia Kenig-Ziesler – $2,440/£1977
Ava Roberts – $2,433/£1972