New Deal Promotes Peace Necessary for Development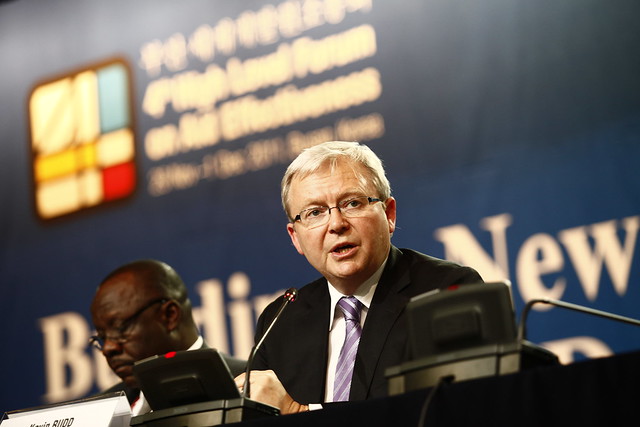 The traditional conception of foreign aid simply involves transferring funds to a foreign government, but this model proved extremely limited in its effectiveness in weak states. As a consequence, the recognized government has limited ability to exercise authority and doesn't possess a full monopoly on the use of force. A new deal promotes peace, though, and has the potential to improve these shortcomings.
One way that governments have attempted to address these issues is through the New Deal for Engagement in Fragile States, signed by over 40 countries at the Fourth High-Level Forum on Aid Effectiveness in Busan, Korea in 2011. The New Deal promotes peace in the hopes that increased societal stability will lead to development.
In 2014, then-UN General Assembly President John Ashe said that "stability and peace are essential enablers of sustainable development, just as violence is one of its greatest obstacles."
In accordance with the idea that peace and development are inextricably linked, the New Deal established Five Peacebuilding and Statebuilding Goals (PSGs) that both strong and fragile states committed to pursuing in states with weak institutions: legitimate and inclusive politics, justice, security, revenue and services and economic foundations.
The project was based upon the notion that civil society, development partners and government can work together for development. For the last five years, the New Deal worked on how to better integrate civil society into the peace-building process as a central actor, rather than one on the periphery. As a framework, the New Deal promotes peace and can be used by countries as a means to effectively implement sustainable development.
Unfortunately, while lofty in ideals, the implementation of the PSGs and the New Deal has had mixed levels of success. As each country faces different types and levels of fragility, integrating New Deal policies with existing frameworks can be difficult; and, assessing that fragility requires comprehensive engagement with the population.
Additionally, the technocratic tendencies of the New Deal could oftentimes hamper dialogue and meaningful participation of civil society.
While yet imperfect, commitment to the New Deal remains strong, as countries realize the necessity to address peace and development in conjunction with one another. Therefore, societies cannot experience growth and development without a responsive and resilient state.
For the 1.4 billion people who live in fragile states today, there is still much work that remains to be done. The building of stable institutions requires time, political capital, prolonged commitment and country leadership. In the context of the New Deal, peace and development must be pursued, in conjunction with one another, in order to establish stable institutions and resilient growth.
– Adam Gonzalez
Photo: Flickr
https://borgenproject.org/wp-content/uploads/logo.jpg
0
0
Borgen Project
https://borgenproject.org/wp-content/uploads/logo.jpg
Borgen Project
2016-09-09 01:30:38
2020-06-14 18:18:05
New Deal Promotes Peace Necessary for Development