Neil Patrick Harris & Disney Team Up for Make-A-Wish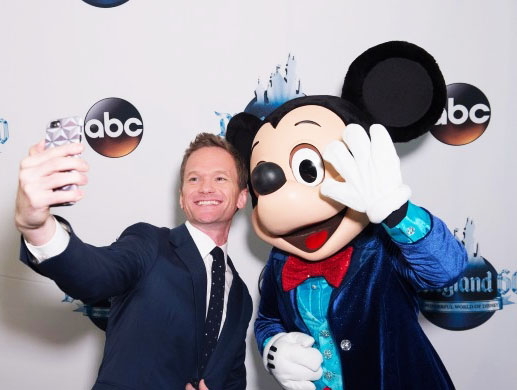 From the end of February through March 14, Neil Patrick Harris appeared across many a social media feed wearing Mickey Mouse ears to promote the 60th anniversary of the Disneyland resort in Anaheim, California. However, there was more to the picture than the actor's love of Disney: It was also the launch of the Share Your Ears campaign for the Make-A-Wish Foundation.
Share Your Ears is an innovative campaign designed to get everyone involved in the spirit of giving. For every picture posted on social media with someone wearing mouse ears with the hashtag #ShareYourEars, Disney donates five dollars to Make-A-Wish International. While the campaign has a million dollar limit, the awareness the campaign raises for the work of Make-A-Wish is priceless.
Disney and Make-A-Wish have a special relationship that goes back to the foundation's inception. Make-A-Wish grants wishes to children with life-threatening illnesses, and many children wish to visit Disneyland. In fact, according to Look to the Stars, over 8,000 wishes related to Disney are granted annually.
By sporting the mouse ears, Harris helped set off a campaign for a truly worthy cause. Since its founding in 1980, Make-A-Wish has fulfilled the wishes of 350,000 children worldwide in over 50 countries.
President and CEO of Make-A-Wish, David Williams, acknowledges Disney's outsized role in granting wishes. "The Share Your Ears campaign captures the excitement and creativity that we all associate with Disney. Since the very first wish, Disney has provided wish kids and their families with experiences beyond their wildest imaginations. We couldn't be more grateful."
As part of the campaign, the Disneyland resort is also selling 7,500 mouse ear hats emblazoned with the logo, "Wishes Really Do Come True." This will raise an additional $150,000 for Make-A-Wish on top of the one million dollars raised by the hashtag campaign.
Neil Patrick Harris was also in the fundraising spirit, modeling a special pair of ears that serve as the prize of a special sweepstakes. By donating $10, $25 or $50 to Make-A-Wish, entrants have a chance to win a pair of Mickey Mouse ears adorned with Pave diamonds, Swarovski crystals and white gold.
The spirit of giving is infectious, and Disney hopes that the Share Your Ears campaign will spread that spirit throughout its fan base. Bob Chapek, the resort's chairmen, explained that "For 35 years, Walt Disney Parks and Resorts has been proud to work with Make-A-Wish to make dreams come true for thousands of children, and now we're excited to give Disney fans the opportunity to help us make a difference for even more."
When actors, entertainment companies and foundations come together to reach out to fans, the effect multiplies. Money is raised, but more importantly, people get excited to raise money for a worthy cause and uplift the most vulnerable among us. They continue to donate beyond the campaign. By working together with Disney and Make-A-Wish, Neil Patrick Harris has helped created a future where wishes really do come true.
– Dennis Sawyers
Sources: InStyle, Look to the Stars, Make-A-Wish International, The Orange County Register
Photo: All Ears
https://borgenproject.org/wp-content/uploads/logo.jpg
0
0
Borgen Project
https://borgenproject.org/wp-content/uploads/logo.jpg
Borgen Project
2016-04-04 01:30:23
2020-06-19 18:00:30
Neil Patrick Harris & Disney Team Up for Make-A-Wish