Mark Zuckerberg's Charitable Donations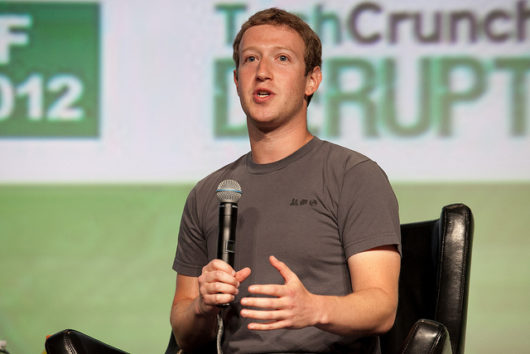 Mark Zuckerberg is most commonly known as the founder and chief executive officer (CEO) of Facebook. He is also one of the wealthiest people in the world. Zuckerberg is an American technology entrepreneur and philanthropist. He is using his fame a fortune to help donate and raise awareness to put an end to global issues. With a net worth of $69.5 billion, Mark Zuckerberg's charitable donations are a way in which this famous young man is using his own wealth in making the world a better place.
The Beginning of the Donations
Mark Zuckerberg's charitable donations are based on his pledge to donate 99 percent of his wealth to charities over the course of his life. He vowed himself to this by signing the Giving Pledge. The Giving Pledge is a commitment by the world's wealthiest individuals to dedicate the majority of their wealth into charities and for good causes. Within this pledge, Zuckerberg also wants to promote equality and advance the human potential for future generations.
In September 2016, Mark and his wife Priscilla Chan sold $95 million in Facebook stocks so that they could give the proceeds to charity. They plan to sell the stocks in the amount to at least $1 billion each year. So far, Zuckerberg has donated $45 billion to charitable purposes. He and his wife firstly pledged to give donations to charity by writing an open letter to their daughter who was born in late 2015. The birth of their daughter inspired them to change the world and environment and make it a better place for their daughter to live in.
The Chan Zuckerberg Initiative
Mark Zuckerberg's charitable donations also include the joint work with his wife, Doctor Priscilla Chan, in creating and working in their own organization called the Chan Zuckerberg Initiative. This organization aims to create education reform, biomedical advancements, immigration reform and housing affordability. In addition, it focuses on improving the education system, global development, health and criminal justice systems policy.
All money that is donated and raised to this organization goes into helping these global issues. Zuckerberg's goal through this initiative is to focus on areas of personal learning, curing disease, connecting people and building strong communities. Through the Chan Zuckerberg Initiative, Mark Zuckerberg and wife pledged to donate $3 billion over the course of 10 years.
Donations Toward Education
In 2010, Zuckerberg and his wife donated $100 million to improve the public schools in Newmark. Lack of education is one of the leading causes of poverty, and Zuckerberg and his wife's donations in support of this issue help children get the right education they need to be successful in life. By getting a child the proper necessities they need in education overall gives them a better education. If a child is falling behind in first grade and then moves on to third grade and is still falling behind they will likely stay behind later on due to not having the right necessities for their work.
Donations in Africa and India
Mark Zuckerberg's charitable donations also include donating $25 million towards a start-up that trains African developers as well as donating $50 million that creates an app designed to be a learning tool in India to help less fortunate gain access to education for a better future. Zuckerberg is a big advocate of learning and education.
With that being said, he has donated $30 million with his organization the Chan Zuckerberg Initiative to help kids learn to read by technology. Zuckerberg uses technology to tailor the learning materials with kids' interests, abilities and pace of work. Zuckerberg launched "Reach Every Reader", a five-year initiative to build a web-based screening tool that is used to diagnose reading problems before kids can even read. This program is based at home as well as in schools to personalize literacy support or kids, teachers and parents.
Mark Zuckerberg uses his fame and fortune to help people in need all over the world. He has teamed up with his wife Doctor Priscilla Chan to create the Chan Zuckerberg Initiative. Mark Zuckerberg's charitable donations' overall goals are to focus on areas in all over the world to generate positive impacts in places of great need.
– Ariel Deahl
Photo: Flickr
https://borgenproject.org/wp-content/uploads/The_Borgen_Project_Logo_small.jpg
0
0
Kim Thelwell
https://borgenproject.org/wp-content/uploads/The_Borgen_Project_Logo_small.jpg
Kim Thelwell
2019-03-18 19:30:52
2019-04-25 14:59:11
Mark Zuckerberg's Charitable Donations