Malnutrition in Mozambique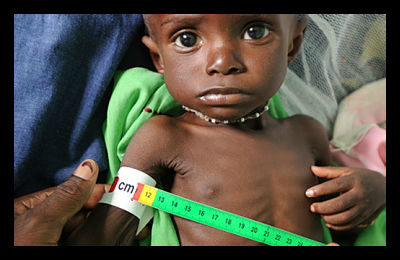 In Mozambique, almost one in two children under the age of five is nutritionally deficient. Poor nutrition contributes to high rates of childhood mortality. Those who are nutritionally deficient are more susceptible to diseases, which further complicates the situation.
Looking at the macro and micro levels of nutrient deficiency, one can see how malnutrition in Mozambique is affecting the country. At the macro level, 44 percent of all children under the age of five are stunted due to chronic illness and poor diet with 18 percent of all children categorized as underweight. Wasting, or acute malnutrition, affects four percent of the adolescent population and is a major concern for Mozambique.
On the micro level, Iron, Iodine and Vitamin A deficiencies are among the main perpetrators. Iron deficiency affects 75 percent of the children who grow anemic and are apathetic, anorexic and energy-less. Iodine deficiency has mental and physical repercussions. Goiter is a condition that is caused by iodine deficiency and affects 15 percent of children between the ages of six and 12 in Mozambique. Iodized salt usage has increased in recent years, however, to combat this trend.
Vitamin A deficiency weakens the body's immunity against infections. This is a serious side effect and affects the majority of children in Mozambique, at a rate of 69 percent of children. It also affects 11 percent of mothers, who find it hard to breastfeed their children because they are also undernourished.
"It is not just about food," says Maaike Arts, a nutrition expert at the UNICEF organization in Mozambique. "It is about health, hygiene and sanitation. Diarrhea and worms affect the child's uptake of nutrients; malaria reduces the levels of iron in the blood. In Mozambique, many women marry and get pregnant as teenagers. There is a significant correlation between mother's age and the nutritional status of the children."
UNICEF has been forging their way through the thick of Mozambican hunger with a three-focus attack. UNICEF is scaling up the support of the Basic Nutrition Package in health facilities, implementing community-based nutrition interventions and feeding malnourished children. The WHO is also joining the fight with a plan that has seven individual strategies.
UNICEF's Basic Nutrition Package aims to prevent children from becoming malnourished in the first place by providing "health units" to the provinces in Mozambique. Activities include the community coming together and learning about good nutrition practices and how to correctly feed the young. These activities focus on the empowerment of mothers, families and communities.
The WHO has created an in-depth plan that includes the following focus areas:
· Activities with impact on teenagers' nutrition status strengthened
· Interventions with impact on productive, lactating and pregnant women's health and nutrition strengthened
· Child-oriented nutrition activities in the first two years of birth strengthened
· Household-oriented activities to improve high nutrition food access and utilization strengthened
· Human Resources capacity in nutrition strengthened
· Strengthen national capacity for advocacy, coordination, management and progressive implementation of the Multi-Sectorial Action Plan for Chronic Malnutrition Reduction
· Food and nutrition control system strengthened
Strengthen is the key work in the WHO's plan. They want Mozambique to gain the capability to provide for itself. The ultimate goal is to reduce chronic malnutrition to 20 perccent by 2020.
With the help of UNICEF and WHO providing the basic needs of nourishment and sustainability, malnutrition in Mozambique can begin to see its downfall. These organizations have studied the land and the people and have determined what is needed in order for this country to get up and running on its own.
– Erik Nelson
https://borgenproject.org/wp-content/uploads/logo.jpg
0
0
Borgen Project
https://borgenproject.org/wp-content/uploads/logo.jpg
Borgen Project
2015-04-13 08:00:02
2017-11-30 11:02:27
Malnutrition in Mozambique