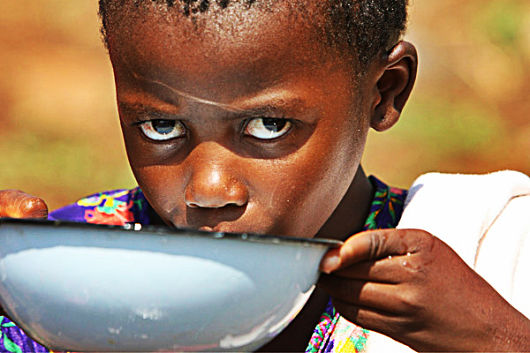 Like many countries in Africa, Lesotho faces a multifaceted humanitarian crisis in which issues are intertwined and often exacerbated by each other's presence. The Lesotho government estimates that around 725,000 people, or about a third of the population, are in need of some form of humanitarian aid. Lesotho has the third highest prevalence of HIV/AIDS with almost a full quarter of adults ages 15-49 infected with the virus.
Furthermore, the United Nations estimates that almost 9,000 children under the age of 5 are severely malnourished in Lesotho. In 2009, a study conducted by the World Food Program (WFP) estimated that 39 percent of children under 5 years old exhibited signs of stunted growth resulting from malnutrition. UN research shows that school attendance for young boys and girls has been decreasing in recent years as well. This is likely due to families reliance on children to assist with increasing agricultural responsibilities.
Unpredictable weather conditions such as floods and droughts have burdened the production and availability of food in addition to other necessary resources. These factors have also contributed to increases in soil erosion and infertile lands. Minimal access to secure, high yielding seeds has also been an obstacle. These fluctuations of climate, coupled with the constant demand for staples such as maize, oil and sugar have caused prices to increase. All of these factors have contributed to malnutrition in Lesotho.
In an effort to combat the drastic price increases, UNICEF, WFP and the Lesotho government are working to implement relief measures. Efforts to adapt to irregular climate conditions are also in place. The Food & Agriculture Organization of the UN has created the Emergency & Resilience Program along with the Lesotho government to implement long term procedures such as subsistence farming and agro-conservation tactics. So far, the program has aided almost 20,000 farmers in Lesotho.
In 2007, UNICEF helped create the Lesotho Child Grants Program that affords impoverished families 40 U.S. dollars each quarter to purchase basic necessities. The program helps over 10,000 families and is being expanded to provide assistance to over 15,000. In addition, the dollar amount allocated to each family will be increased by 94 U.S. dollars.
Puseletso Tsiu is a recipient of the child grant who has greatly benefited from the program's assistance. Tsiu's two daughters died of AIDS and she has assumed responsibility for their childrens' care. As a result of the extra support, she has been able to buy pairs of shoes for her orphaned grandchildren to wear to school. A commonplace purchase in the first world, such as the purchase of shoes, is viewed as a crucial investment in countries like Lesotho.
The National School Feeding Policy, sponsored by the WFP, provides two meals per day for students who can meet attendance requirements. For many families, the program provides an added educational and economic incentive to send young children to school. Families like Tsiu's rely heavily upon the meals provided in schools so they can save money by not feeding them at home. In total, this program provides meals for over 400,000 students in Lesotho.
In the case of Lesotho, it has been demonstrated that international unity between organizations and governments can make a positive difference. "Kopano ke matla" is an old saying in Lesotho that roughly translates to "unity is power." When faced with such adverse conditions, the meaning and power of this phrase must not be underestimated.
– The Borgen Project
Sources: UNICEF, WFP, UNECOSOC, FAO
Photo: World Food Programme
https://borgenproject.org/wp-content/uploads/logo.jpg
0
0
Borgen Project
https://borgenproject.org/wp-content/uploads/logo.jpg
Borgen Project
2015-06-16 09:06:48
2022-01-19 00:43:21
Malnutrition in Lesotho