10 Facts About Libyan Refugees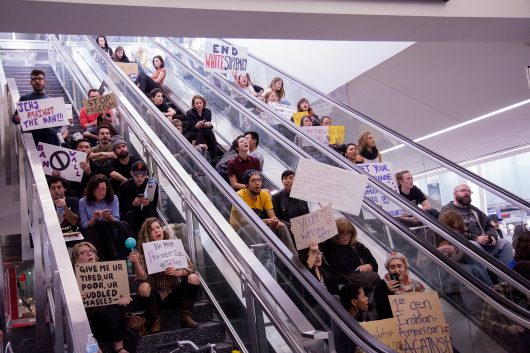 The U.S. admitted 84,995 refugees in the fiscal year 2016. While only one was from Libya, the North African nation is among the seven countries included in President Donald Trump's controversial refugee ban.
Thousands of refugees and migrants leave the coast of Libya for other nations every week. The majority of Libyan immigrants and refugees are traveling to the EU. Here are 10 facts about Libyan refugees:
The route Libyan refugees and migrants take to Europe is dangerous and often deadly. Boats can easily wreck or capsize as they cross the Mediterranean Sea. According to the U.N., more than 5,000 people died trying to cross the Mediterranean Sea in 2016. The majority of these fatalities were on the route from Libya to Italy.
The Libyan government receives funds to stop migrant boats leaving the country as part of a deal with leaders of the EU. Authorities have already stopped about 2,000 Libyan refugees and migrants en route to Europe since the start of 2017.
When migrants fleeing on boats are stopped by Libyan authorities, they are held in detention centers. Libyan detention centers are overcrowded and are notorious for human rights violations. The amount of time that detainees are held can stretch to weeks and even months. People who have been held in these detention centers have reported instances of poor sanitation, little food or water, beatings from guards and coercion into hard labor.
The number of people migrating to Europe from Libya has quadrupled since 2013, following an increased presence of Libya's Islamic State militant group and lawlessness after the death of Libyan dictator Muammar Qaddafi. Rival groups have fought for control of Libya since rebel fighters killed Qaddafi in 2011.
Refugees and migrants from all across North Africa, the Middle East and South Asia depart from Libya. The route to Europe from Libya has become more popular after the passage to Greece from Turkey was cut off by an agreement between the EU and Turkey. Under the agreement, Turkey and Greece were to turn away all refugees or migrants that entered Greece through irregular routes from Turkey. In exchange, the EU agreed to resettle one Syrian refugee from Turkish refugee camps for every migrant or refugee turned away. However, the deal only lasted from March to September 2016.
Aside from the short distance from the Italian island of Lampedusa to Libya, the route also became popular because of Libya's lack of a centralized government. These conditions made it easy for smugglers to carry out operations however they chose.
Smugglers often take advantage of refugees and migrants, holding those unable to pay for the passage hostage as slaves. They may also maintain control by stealing passports and holding refugees and migrants for ransom, especially targeting unaccompanied children.
Most Libyan refugees and migrants leave the country on crowded boats. Libyan authorities who stopped more than 2,000 people fleeing the country by boat in May 2016 reported that each boat held about 500 people.
Although countries in the EU have increased efforts to stop the flow of Libyan refugees and migrants, international laws prohibit countries from sending them back to places in which they could be in danger, according to human rights groups.
With rival groups and Libya's Islamic State militant group fighting for power in Libya and human traffickers taking advantage of the chaos, it is likely that those sent back to Libya would be in danger.
For the thousands of Libyans for whom remaining in their home country has become untenable, the best response is a compassionate one. Safe, stable nations must respond with humanity rather than seeking ways to reject these desperate people.
– Cassie Lipp
Photo: Flickr
https://borgenproject.org/wp-content/uploads/logo.jpg
0
0
Borgen Project
https://borgenproject.org/wp-content/uploads/logo.jpg
Borgen Project
2017-03-07 01:30:15
2020-05-21 12:15:16
10 Facts About Libyan Refugees