EOS International Tackles Latin American Water Scarcity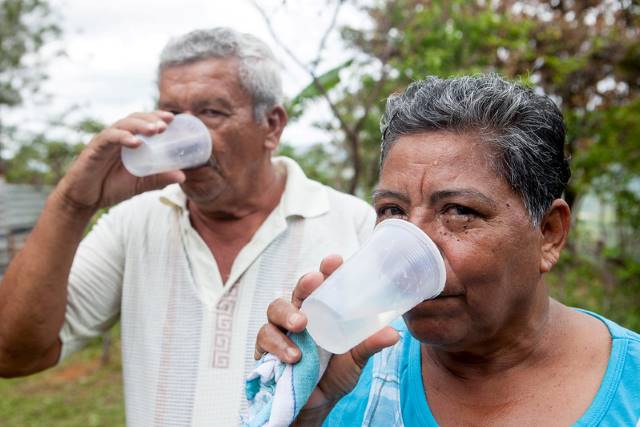 In Latin America, the health and well-being of rural communities are threatened by water scarcity and poor sanitation. In recent decades, the number of people facing water scarcity has declined. Unfortunately, with 36 million people currently lacking access to clean water in Latin America, water scarcity is an issue that is just too prevalent. EOS International aims to address Latin American water scarcity by providing simple and affordable solutions to increase access to clean water.
Causes of Latin American Water Scarcity
While many factors contribute to the water crisis, the outsized role of climate change cannot be ignored. Recent increases in extreme weather events including flooding, hurricanes and droughts threaten the water supply of many Latin American countries. For example, in Peru, flooding left water treatment plants full of rocks and debris, clogging the water supply. Consequently, authorities made the decision to restrict water usage in the Peruvian cities of Lima and Arequipa.
On the other end of the spectrum, drought threatens Bolivia's water supply, which is significantly rainfall-reliant. Extreme weather conditions, however, are not the only factors threatening clean water access for Latin Americans. Misguided governmental decision-making exacerbates the problem. Most consequentially, increases in deforestation, mining and the creation of mega dams have exacerbated the occurrence of extreme weather patterns. In turn, these developments often harm the water supply in many Latin American countries. Of particular concern in Peru, international mining companies polluted waterways and "hijacked" the water supply, harming the livelihoods of farmers in the region.
In other countries, the biggest threat to the water supply is agribusinesses with undue control over water allocation. This synergy of extreme weather conditions, extractive industries, agribusinesses and governmental inaction still threatens rural families in Latin America who lack access to clean water.
Health and Water Scarcity
Water scarcity poses a direct danger to human health. The most harrowing outcome is waterborne illnesses, primarily diarrheal diseases, which are too often fatal. Waterborne illness is responsible for one in nine child deaths around the world. The pollution in the water itself is an environmental hazard. The Pan American Health Organization estimates that in children younger than 5 in the Americas, close to 100,000 die from such pollution annually.
Water Scarcity Hinders Poverty Reduction
Not only does water scarcity threaten the health of rural communities in Latin America but it is also a major obstacle to poverty prevention. Without clean water, it is nearly impossible to stay healthy enough to manage a job, go to school, construct a home or undertake other essential endeavors necessary to pull oneself out of poverty.
When women have to travel long distances to collect water, they waste hours of time and energy that can otherwise go toward more productive endeavors such as education and paid employment. Areas lacking clean water are also more vulnerable to food insecurity as it is more difficult to grow sufficient crops to feed the populous. Food security, education and employment are all key to poverty reduction, however, a lack of access to water presents a barrier to these outcomes.
Efforts to Alleviate Water Scarcity
Organizational efforts play a role in driving the decrease in overall water scarcity. EOS International is one such organization. EOS stands for "Emerging Opportunities for Sustainability." The organization's work aims to empower rural families in Central America by facilitating access to clean drinking water through technological advances and education.
As part of this goal, EOS volunteers help rural communities to safeguard clean water. The volunteers regularly test water quality and then treat unsafe and contaminated water, usually with chlorine tablets. The volunteers then monitor the water system over time, providing chlorine tablets to communities when required. Not only does EOS provide base-level support but it also manufactures and installs simple technologies that provide long-term support for the water supply. Since its establishment in 2008, EOS has installed more than 2,000 simple, affordable and "locally serviceable technologies" in Central America.
The organization also supports economic growth and income generation in communities. EOS International has "provided clean water services including training, education and support for 1,169 communities," positively impacting more than 500,000 people. Furthermore, the organization's "50 chlorine distribution centers have created income-generating opportunities for local entrepreneurs."
Looking to the Future
EOS International has made a measurable impact on the health of rural Latin Americans. The organization has installed technologies that provided lasting clean water access to more than half a million people in Honduras and Nicaragua alone.
EOS International's successes in combating Latin American water scarcity are not possible without the support of donors and volunteers. The implementation of technologies is done in large part by people willing to give their time to support rural families. Nonprofits make a measurable impact in the lives of countless families facing water insecurity. However, their work is not possible without generous contributions of time and monetary support. EOS International's efforts are an example of the vital work being done by nonprofits to combat global poverty.
– Haylee Ann Ramsey-Code
Photo: Flickr
https://borgenproject.org/wp-content/uploads/logo.jpg
0
0
Kim Thelwell
https://borgenproject.org/wp-content/uploads/logo.jpg
Kim Thelwell
2021-08-17 07:30:44
2021-08-17 00:32:10
EOS International Tackles Latin American Water Scarcity