Transport Infrastructure in Bosnia and Herzegovina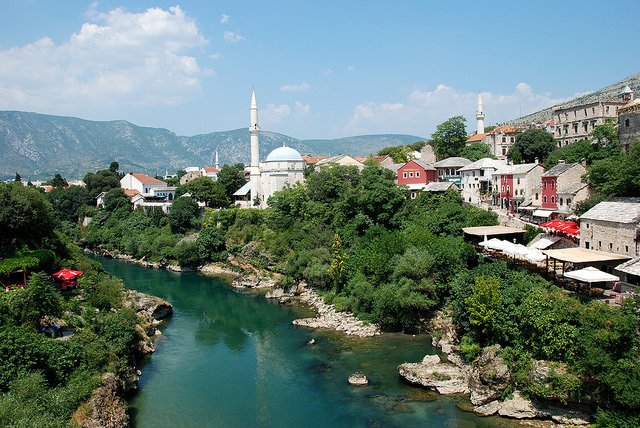 The infrastructure in Bosnia and Herzegovina has been recovering from the destruction brought by the Bosnian War in 1995 ever since its end. The two main ways of travel, the motorway and the railway, have been and still are the priorities of Bosnia and Herzegovina when reconstructing and rehabilitating after the war. There have been several projects set forth to create safe and business-boosting infrastructure in Bosnia and Herzegovina.
Motorway Transport
Many roadways have been constructed parallel to railways to improve travel times. Corridor Vc is one of the most popular and best ways to travel from big cities like Sarajevo, Zenica and Mostar to the E.U. Recently, there has been a motorway built to lessen the amount of time it takes to travel between these cities.
"It used to take double or even triple the time…when you travel to the north to visit friends and family, it is very convenient" a woman stopping at the toll station told the European Bank for Reconstruction and Development (EBRD).
Between the years of 2007-2011, a Road Infrastructure and Safety Project was put in place to improve traffic conditions, increase road safety and modernize road maintenance procedures. A total of 30 million U.S. dollars were used to finance the rehabilitation of the roadways.
When the Road Infrastructure and Safety Project came to an end in 2011, 61km out of the 241km of road projected to be done had been rehabilitated. Road safety had progressed and the Republika Srpska, a road safety agency, was created to monitor roadway safety. Lastly, a maintenance contract was signed in March 2010 with the Federation of Bosnia and Herzegovina to assist in modernizing road maintenance procedures.
Railway Transport
Since the mountains of Bosnia and Herzegovina are rich with resources like metal, steel and aluminum, it is vital to have proper and heavy duty railways for transportation of these resources. The EBRD contributed 101 million Euros in the early 2000s to build new tracks, reconstruct tunnels and install new signaling systems for the railways.
After the initial contribution, the construction of a better railway boosted business in the country. Heavy industry organizations, such as iron and steel manufacturers, were located along the route and access to their markets became easier.
Based on the Railways of the Federation website, there are 14 core activities that are done to ensure the best railway infrastructure. Included is the organization and management of railway traffic, safety of both passenger and cargo transport, routine maintenance of signaling, telecommunication and contact networks and development of railway regulations.
Also included on the website are tips for passenger and freight traffic for resident travelers and transporters. The traffic indicators let a passenger know what they should expect when taking a train to a different city. For a transporter, there are diagrams that show the tons of goods being transported along the Bosnia and Herzegovina railway.
Transport infrastructure in Bosnia and Herzegovina has been improving each year. Overall, the country has been able to create faster transportation and more efficient means to transport goods in order to increase business.
– Brianna Summ
Photo: Flickr
https://borgenproject.org/wp-content/uploads/logo.jpg
0
0
Borgen Project
https://borgenproject.org/wp-content/uploads/logo.jpg
Borgen Project
2017-12-15 07:30:39
2019-12-13 19:23:37
Transport Infrastructure in Bosnia and Herzegovina