Improving Sierra Leone's Urban Mobility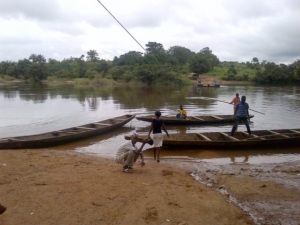 Sierra Leone is a country in Western Africa that borders the North Atlantic Ocean. It contains four pronounced physical regions: the coastal swamp, the Sierra Leone Peninsula, the interior plains and the interior plateau and mountain region. Currently, about 62 percent of people in Sierra Leone live in a rural area. These villages center most of their economic activity around rice farming while Sierra Leone as a country obtains most of its economic growth through mining, primarily iron ore. By improving Sierra Leone's urban mobility, the country will be able to increase its economy.
Many of these villages, as well as the country itself, are still recovering from the civil war that dismantled many of their institutions. In the 1980s, the government of Sierra Leone initiated a program to modernize their road system, which had been used as a railway until 1975. However, the new road system was also a victim of the aforementioned civil war. Organizations like the World Bank are improving Sierra Leone's urban mobility by improving infrastructure.
The Integrated and Resilient Urban Mobility Project
On June 13, 2019, The World Bank introduced the Integrated and Resilient Urban Mobility Project for Sierra Leone. Their objectives are to "improve quality public transport, address climate resilience, improve road safety in selected areas and enhance institutional capacity in the transport sector." The Integrated and Resilient Urban Mobility Project is comprised of five main sections:
Modernization and Professionalization of Public Transport Services: This section will "focus on Maximizing Finance for Development (MFD) in the sector": This section will include a bus fleet renewal scheme with private operators in order to make improvements upon the current informal operator system as well as a bus to school program. The World Bank will be providing technical assistance to strengthen the Sierra Leone Road Transport Corporation, improve capacity building and training for transport operators and install ancillary facilities.
Strategic Resilient Mobility Investments: These investments will be used to "improve access, climate resilience and road safety." With this section, the World Bank hopes to improve the connection to international markets and the ferry for pedestrians and vehicles. It also plans to improve road conditions, drainage capacity, traffic management, signalization, parking and more while taking into account the country's strategic city plans.
Building Human Capital and Institutional Capacity: Here, the aim is "to promote public transport reform and operationalize the MFD agenda." This section focuses on enhancing logistics and strategies for the country in the long term. The World Bank plans to improve road safety and road safety databases, enhance climate resilience by assisting pre-existing sectors as well as improve academic capacity, women's empowerment and citizen engagement.
Project Management: This sector aims to improve funding for "goods and services to support project management, financial auditing, data collection, monitoring and evaluation (M&E) and operating cost." This section will also aid in refining project management, social and environmental safeguards, grievance redress mechanisms, response to sexual exploitation and abuse efforts and mitigation of gender gaps.
Contingent Emergency Response Component (CERC): CERC will "enable the rapid reallocation of funding among project components following an emergency." With a CERC, the World Banks hopes to strengthen disaster preparedness, both natural and manmade, and strengthen the response to conflicts, epidemics and economic shocks.
The Freetown Urban Transport Authority
One way to improve urban mobility in Sierra Leone is by improving infrastructure in the country's capital, Freetown. The World Bank is working with Adam Smith International, an award-winning global company that specializes in the delivery of projects that improve economic growth and government reform initiatives. They created a six-month project in line with the current Integrated and Resilient Urban Mobility Project, which will improve urban mobility.
Together, they developed a fully integrated mobility plan that updates regulation and planning in the urban center of Goderich and Hastings. It will work to create the Freetown Urban Transport Authority. They are working to rebuild and refurbish new and existing infrastructure to make it more sustainable and improve the roads in Freetown, the Capital of Sierra Leone.
As a country with an initially weak infrastructure and poor economy, Sierra Leone has struggled to adapt its foundation to modern needs. As a country with a higher percentage of rural areas than urban, Sierra Leone has had trouble with their transportation system. However, organizations such as the World Bank and Adam Smith International are working towards improving Sierra Leone's urban mobility in order to provide more functional and safer streets and easier access to economic and travel centers.
– Jade Thompson
Photo: Flickr
https://borgenproject.org/wp-content/uploads/logo.jpg
0
0
Kim Thelwell
https://borgenproject.org/wp-content/uploads/logo.jpg
Kim Thelwell
2019-08-01 01:30:54
2019-07-31 15:21:34
Improving Sierra Leone's Urban Mobility