Improved Seeds Alleviate the Weight of Poverty in Niger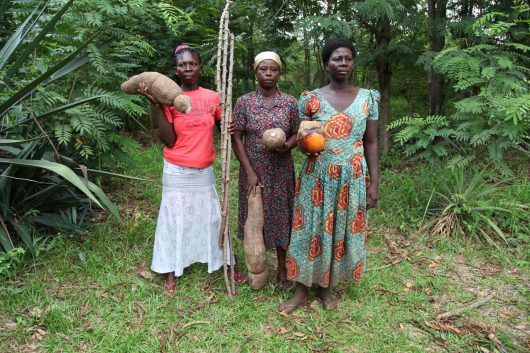 Climate change has the potential to seriously impact both livelihoods and poverty in Niger. Adaptation measures are desperately needed in order to enable communities to cope with the climate change and variability.
The National Action Programme for Adaptation (NAPA), funded by Canada and the United Nations Development Project, supports local producers in Niger to assist them in the pilot usage of improved seeds.
Niger, where two-thirds of the land is covered by desert, is experiencing severe droughts and recurrent food crisis. The new project aims to strengthen resilience to climate change in agriculture and water sectors and thus reduce poverty in Niger.
Here are 5 things about the recently implemented project that you need to know:
New and improved seeds: Through a partnership with the National Institute of Agriculture Research (INRAN), the improved seeds are developed using the grains most commonly consumed in Niger (millet, cowpea and sorghum). They are adapted to withstand drought and allow for multiple harvests per season.
Numbers are increasing: In 2015, 25,000 farmers, including 7,500 women, who used the new and improved seeds harvested yields two to three times greater than the farmers who used traditional seeds. Typically, men will leave their villages to seek work in the city and rural women tend to be the ones most affected by climate change. With these improved harvests, many farmers will no longer need to leave the village in search of more work. Furthermore, this project has also developed women's empowerment initiatives, such as market gardening, sewing or sheep fattening.
Female empowerment: The project has strengthened the capacity of women with regards to administrative management roles and community living, enabling women to participate in entrepreneurship. In each of the target communities, the project donates two sheep to local women. Once the women have built up their herds, they can sell the sheep, and use profits to carry out other income-generating activities.  Empowering women will help further reduce poverty in Niger.
Everyone wants to be involved: During the first phase of the project, between 2010 and 2013, NAPA anticipated that only 50 farmers would use the new seeds. However, 10,000 farmers were eventually involved in the pilot project.
Cheaper by the dozen: Each kilogram of seeds from the harvests is bought back by the project for a sum of 500 CFA Francs (Niger's currency). This is half the purchase price of a traditional seed.
"Initially we were seen as guinea pigs," Abdou Diori, a farmer from the village of Soudouré, said in an interview with UNDP. "Nobody wanted to have anything to do with products with which they were personally unfamiliar… but the benefits are far greater than those associated with traditional seeds, especially in a country such as Niger where rainfall is very unevenly distributed."
The scientifically improved seeds are a simple solution to lifting the poverty that weighs heavy on Niger's farming communities.
– Michelle Simon
Photo: Flickr
https://borgenproject.org/wp-content/uploads/logo.jpg
0
0
Borgen Project
https://borgenproject.org/wp-content/uploads/logo.jpg
Borgen Project
2016-06-20 01:30:43
2020-06-18 12:53:52
Improved Seeds Alleviate the Weight of Poverty in Niger