Efforts to Improve Education in Bangladesh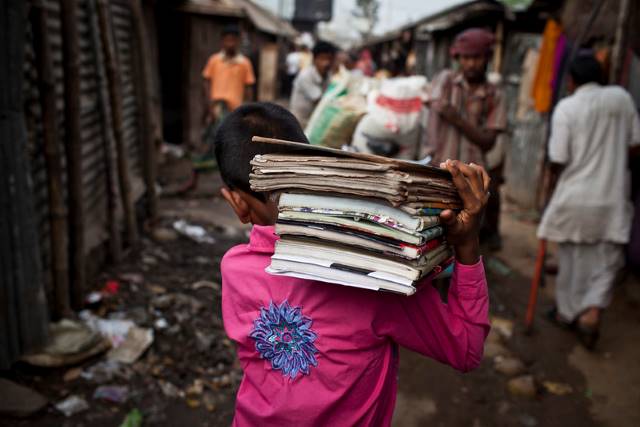 In a speech given at a Boston high school in 1990, Nelson Mandela said, "Education is the most powerful weapon which you can use to change the world." For many of the world's impoverished, education is not an option. Today, more than 72 million children of primary education age are not in school and nearly 759 million adults are illiterate. While many maintain the capacity to survive without an education, the knowledge and awareness garnered through school allows the impoverished to improve their living conditions and rise out of poverty. USAID and the World Bank are working to improve education in Bangladesh as a means of addressing poverty.
The State of Education in Bangladesh
In the last 10 years, there has been progress when it comes to improving education in Bangladesh. According to USAID, nearly 98% of children of primary school age are enrolled in school. In 2016, 50.9% of all enrolled students were girls, meaning total gender parity. Both of these statistics are major accomplishments but there is much more to be done to improve education in Bangladesh.
While enrollment is high, the quality of education that the children are receiving remains quite low. Reading fluency is the barometer that is used to measure a school system's quality, and in Bangladesh, most students are unable to pass basic fluency assessments. To put exact numbers to this, USAID conducted an assessment and determined that "44% of students finish first-grade unable to read their first word and 27 % of third-grade students cannot read with comprehension."
This lack of literacy not only puts these students at a great disadvantage but stunts prospects of economic growth for Bangladesh. Education plays a significant role in sustaining and developing countries and economies which is why USAID and the World Bank have invested in improving Bangladesh's education system.
The World Bank's Education Efforts
On January 18, 2021, Bangladesh signed an agreement with the World Bank, financing $6.5 million to help more than 39,000 kids receive primary school education. The package also allocates funds to vocational training schools for approximately 8,500 dropouts. Mercy Tembon, the World Bank country director for Bangladesh and Bhutan, says that the pandemic has disproportionately impacted the education of children from lower-income households. The additional financing will help slum children and vulnerable youth to build the foundations necessary to improve their lives and increase their opportunities. The World Bank has given Bangladesh the means necessary to improve the quality of their education system and thus support the greater economy.
USAID's Educational Assistance
USAID has taken a more hands-on approach in improving the quality of education. It works directly with Bangladesh's Ministry of Primary and Mass Education to improve early grade reading for children to ensure that all children learn to read in their first years of schooling. USAID's education programs in Bangladesh have:
Expanded access to schooling to almost 30,000 out-of-school children
Increased the reading fluency of third graders by 18%
Increased the first-word reading fluency of first graders by 36%
Trained nearly 17,000 new teachers on how to teach early grade reading
Issued more than two million reading materials to primary schools
Education as a Key to Poverty Reduction
Every young mind deserves the opportunity for education and with the help of the World Bank and USAID, Bangladesh has the means to offer that. Efforts to improve education in Bangladesh will uplift an entire nation. The state of education in the world is progressing and thus bringing about poverty reduction success.
– Matthew Hayden
Photo: Flickr
https://borgenproject.org/wp-content/uploads/logo.jpg
0
0
Kim Thelwell
https://borgenproject.org/wp-content/uploads/logo.jpg
Kim Thelwell
2021-02-28 01:30:20
2021-02-24 04:59:39
Efforts to Improve Education in Bangladesh