Hugh Jackman: the Humanitarian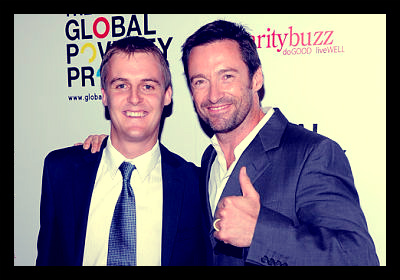 Hugh Jackman is perhaps best known for his role as Wolverine in Marvel's X-Men series. Outside of acting, though, the Australian actor is also well-known for his efforts as a great humanitarian. His involvement with the Global Poverty Project and various other charity programs, ranging from AIDS prevention to Children's Hospitals, show that is he is someone who uses his status to bring awareness to the various problems in our society and help those in need.
Global Poverty Project is an organization that combats extreme poverty through various campaigns of awareness and government action.  One of their campaigns is 1.4 Billion Reasons—one for each person living in extreme poverty all over the world (extreme poverty is defined as living on less than $1.25/day). The campaign is one of awareness: the presentation introduces the viewers to the persistence of poverty, and the many possible solutions to it.
Hugh Jackman is associated with another campaign of the Global Poverty Project: Live Below the Line. For five days, the participants of this campaign live below the poverty line, spending only $1.25 a day on food. This takes a great deal of commitment and helps to develop sympathy for those for whom this is an everyday reality.
In addition to supporting such campaigns, Hugh Jackman also recently did some fundraising for charity. He charged all the guests to attend his birthday party, and after performing a musical number, dancing, and telling stories the whole night, sent all the proceeds to the Motion Picture and Television Fund, which gives services such as healthcare to those who work in and have retired from the entertainment industry.
Clearly, Hugh Jackman understands the importance of helping those both near and far—those with whom he works, and those who he will probably never meet in his life. He brings awareness to serious issues and is a great role model to people everywhere. He feels the need to help those all over the world, and that shows he's a true humanitarian.
– Aalekhya Malladi
Sources: Newsday, Look to the Stars
Photo: Zimbio
https://borgenproject.org/wp-content/uploads/logo.jpg
0
0
Borgen Project
https://borgenproject.org/wp-content/uploads/logo.jpg
Borgen Project
2013-10-20 17:18:18
2020-07-09 20:55:23
Hugh Jackman: the Humanitarian