How Wells in Africa Can Ease the Continent's Water Crisis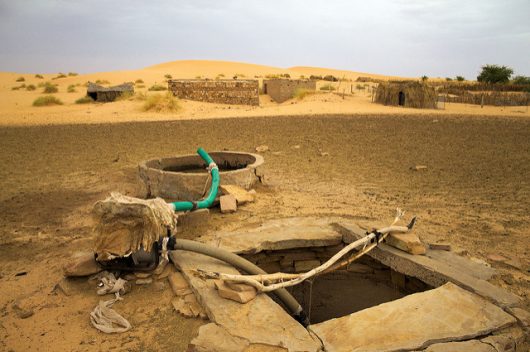 In most developed nations across the globe, water is taken for granted. What is so vital for existence is easily dispensed from numerous faucets in each home.
However, in less developed nations, particularly across Africa, water is much more difficult to come by.  Across the continent, the number of people without access to quality water has increased by 66 million since 1990. Many are forced to spend hours per day collecting heavy water from far away sources. Others use contaminated water that is ridden with bacteria and unsafe for consumption. Still others go without.
Wells in small towns and villages provide an effective way to address issues surrounding proper sanitation and access to high quality drinking water.  Here are five reasons that water wells in Africa are the smart choice for progress and investment.
How Water Wells in Africa Can Solve Water Scarcity
Only 16 percent of people living in Sub-Saharan Africa have access to drinking water through a household faucet. This means that 84 percent must find access to water outside of their home.With the climate being so arid and a very small portion of the population living near the largest water sources, many have very limited access to water. The Congo River Basin holds over 30 percent of the water supply for the whole continent but less than 10 percent of the continent's people.Coupled with the lack of education surrounding water quality, this creates a dangerous situation for consumption of contaminated water. Wells in Africa can provide a convenient and safe source of water for many of its inhabitants.
Disease from water-borne illness is at a high. For example, in Africa, over two million children die from illnesses brought on due to poor water each year.A startling one in eight people drink water that could potentially kill a human being. Another one in three drink water that is deemed unclean, amassing to 330 million people consuming unsafe water. Kids across the continent miss more than 440 million school days due to water-related diseases.Beyond clean drinking water, the World Health Organization estimated that in 2004, only 59 percent of the world's population had access to adequate sanitation systems. This lack of hygiene surrounding water usage takes up 50 percent of hospital beds across Africa on any given day, creating costs and using precious resources.
The benefits from a well outweigh the cost. While the cost of wells in Africa varies by location, on average the positive impact that a well has on people's lives outweighs the building cost.As well as helping to improve living conditions, wells also create positive economic responses. It is estimated that $1 invested in clean water and sanitation yields a $9 return. This is due to the economic stimulation that a well can bring about.This increased productivity stems from fewer sick days taken and more kids, particularly girls, staying in school. Additional money is saved from the lack of hospitalization. While the implementation cost of a well can be high, a single well in Africa can meet the basic daily needs of nearly 2,000 people and last for over 20 years.
Wells can help foster gender equality. It is commonplace for young girls to drop out of school due to a lack of proper sanitation facilities and familial expectations to collect water.With water sources sometimes being several hours each way and jugs weighing up to 40 pounds when filled, water collection is a full-time job. If wells are introduced, girls may have increased opportunity to obtain an education, bolstering their standing within society and contributing to their own prospects and economic prospects at large.
Rural areas continue to face huge barriers to quality water access. While quality water and adequate sanitation are ongoing battles for both rural and urban areas, more people are affected by the issue at the rural level. 84 percent of those who do not have access to a clean water source live in rural areas.Aid and funding do not match this demonstrated need, however, as aid for rural areas is declining and aid for urban areas has increased by 60 percent since 2000. Wells provide an excellent solution for rural areas as a single well can function as a water source for an entire village.
The water crisis in Africa is one that is affecting millions of lives daily. The construction of wells in Africa is a potential solution to an issue that must be dealt with in order to reach a more stable and equal global society.
– Jessie Serody
Photo: Flickr
https://borgenproject.org/wp-content/uploads/logo.jpg
0
0
Borgen Project
https://borgenproject.org/wp-content/uploads/logo.jpg
Borgen Project
2018-06-03 16:17:51
2019-10-19 17:30:18
How Wells in Africa Can Ease the Continent's Water Crisis