How Vaccines Reduce Poverty in Developing Countries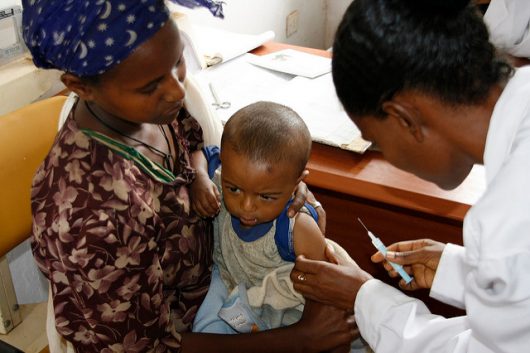 Healthcare expenses push about 100 million people into poverty every year. This average makes medical deprivation one of the main factors forcing families below the World Bank's poverty line of less than $1.90 per day. More shockingly, this results in the deaths of more than 1.5 million children annually from diseases that can be prevented by vaccination. However, a study published by Health Affairs found that by 2030, vaccines can reduce poverty for 24 million people.
The Ways That Vaccines Reduce Poverty
Vaccines will have the greatest impact on reducing poverty caused by hepatitis B, helping an estimated 14 million people avoid medical bankruptcy. Cases of poverty caused by measles and meningitis A will also be reduced by vaccines, with an estimated five million and three million cases averted respectively. The measles vaccine is estimated to prevent by far the highest number of deaths: 22 million of the 36 million total.
The Harvard study, co-authored by Gavi, the Vaccine Alliance and a wide range of partners, modeled the health and economic impact of vaccines for 10 diseases in 41 developing countries. According to the study, the poorest 20 percent of the population from the study represented over a quarter of deaths preventable by vaccination. These findings assert the notion that vaccines reduce poverty when introduced to developing countries.
A healthy child is more likely to go to school and become a more productive member of society in later life. Their families can also avoid the crippling healthcare costs that diseases can bring. This is enough to save millions of people from the misery of extreme poverty when vaccines reduce poverty.
Addressing the Obstacles to Universal Vaccination
Vaccines have made possible some of the greatest public health successes of the past century. Basic childhood immunization is one of the few health interventions to which most of the world's poor have access, free of charge and through the public sector. In fact, immunization is one of the most reasonable health interventions. Vaccines protect girls and boys alike, and reach the poor at higher rates.
However, according to Doctors Without Borders, there are multiple factors that make delivering vaccines to children in developing countries difficult. To start, the newest vaccines are often too expensive, mostly because of a lack of competition in the market, obstructing their use in developing countries. Secondly, there is a lack of research and development for better-adapted and needed vaccines, as there is little incentive for pharmaceutical companies to conduct R&D for diseases that affect populations with limited purchasing power. Lastly, weak health systems with corresponding health worker shortages make it difficult to administer the vaccines to those in need.
UNICEF Programs See Great Success in Improving Vaccination Rates
UNICEF is one of many organizations reaching out to aid developing countries in gaining easier access to vaccines. UNICEF works with partners in government, NGOs, other U.N. agencies and the private sector to provide immunization to the children who need it the most. UNICEF's immunization program also helps identify those children that have been left behind by the health system and can bring other life-saving care to these mothers and children. UNICEF and its partners support immunization programs in more than 100 countries to help realize children's right to survival and good health.
As a result of these programs, vaccines have reduced poverty in every country aided. In 2016, UNICEF procured 2.5 billion vaccine doses reaching almost half of the world's children. Measles vaccinations averted an estimated 17.1 million deaths between 2000 and 2014. Since 2000, 2.5 billion children have been vaccinated and the number of polio cases has fallen by more than 99 percent, dropping to just 22 cases in 2017. Continued investments in immunization in low- and middle-income countries could avert up to 36 million deaths and 24 million cases of impoverishment due to medical costs. Thanks to these efforts, the world's poor have affordable access to proper medication.
– Richard Zarrilli, Jr.
Photo: Flickr
https://borgenproject.org/wp-content/uploads/logo.jpg
0
0
Borgen Project
https://borgenproject.org/wp-content/uploads/logo.jpg
Borgen Project
2018-05-09 17:51:51
2019-08-01 10:09:36
How Vaccines Reduce Poverty in Developing Countries